5 Adorable Wedding Hairstyles On Bangs For Black Women
You have seen several hairstyles before with rocking designs pulled by
black women on weddings
, but have you yet discovered earlier that hair pulled with bangs also look great on such an occasion. It can be styled in different ways depending on each bride's dream; with me in this article have listed down five ways which you can pick to complete your day.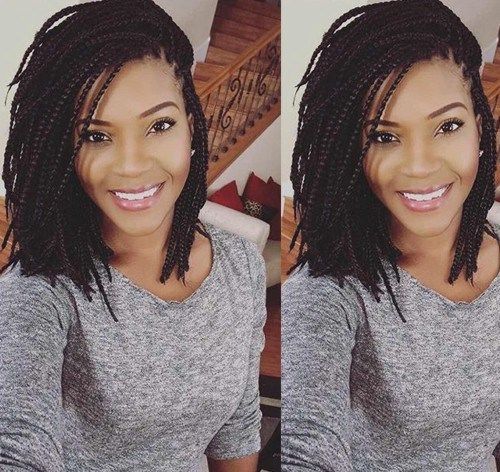 You can either wear it long on straight hair, or pull bangs on short wavy hair, or wear medium length twists and push side bangs or wear it long blonde hair then trim bangs to eyes length or part your natural at front on sides to create bangs either side while the rest of hair is held at back of neck. 1.
Adorable long bangs with Bun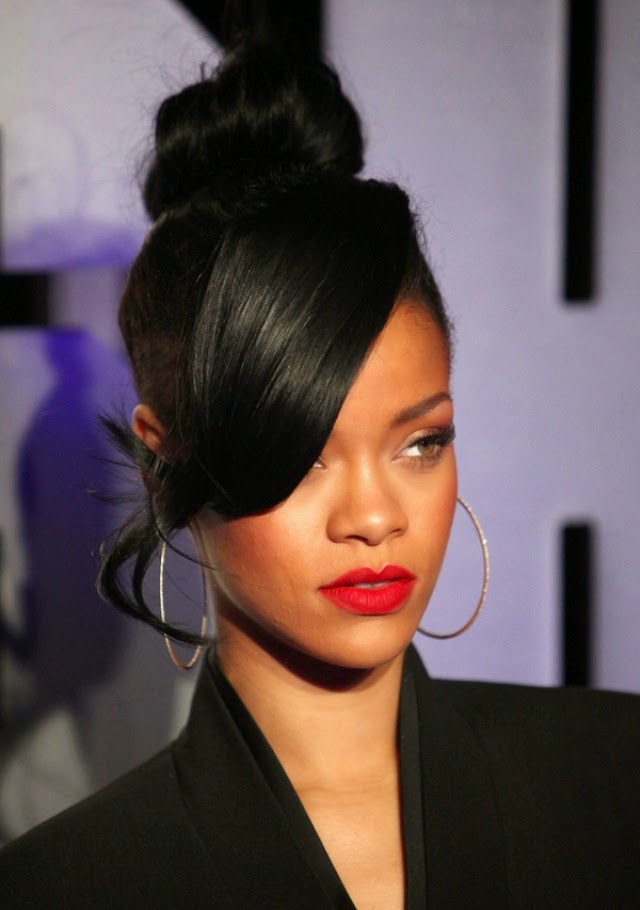 Source:
Either you can trim your hair on the sides half way then maintain more length as you go up wards. You put hair on top together and create a knot. As you push bangs it covers one on the eye. Bangs are pushed straight up to ears then tips are scattered up to neck length. The hairstyle displayed on top features Rihanna, indeed her natural hair has to have some length to hold it together on top. She added medium length straight weave she applied to pull bangs then part of weave fixed on top to make nice looking bun. To make hair look fashionable hair on the sides is trimmed short as well as the lower part of hair at the back of neck. Your natural hair is relaxed to make it smooth and to look neat. Thus small part of your hair at front is pulled with few cornrows thus weave added on top to make it firm.
Determine your face Shape:
Rihanna as our role model is wearing this hairstyle on an oval face shape. However any black women out there with a different face shape shouldn't lose moral thinking this hairstyle will single you out. I want to assure you that this hairstyle will look perfect on you, the only issue to keep note of is you reduce the length of bangs according to your jaw length for this hairstyle to blend perfect with your face shape.
Hair product to apply:
Since this hairstyle is worn on relaxed hair and part of it weave is applied then is better to apply Argan Oil Hair Mask, 8 oz. Hair Treatment Therapy, because its extracted from best natural extracts like Ginger extract, Rosehip seed oil and Coconut oil to give all types of hair awesome results.
Which styling tools apply?
You will need pair of scissors to trim hair on the sides, shampoo your hair off any build up or dirt round your hair then you apply rollers to make your hair as you dry it. You will need small bristled comb to make your hair then as you put it together you tie it with weaving threads featuring on natural color. Using the same comb you will make hair on top bit straight then you push it round to create cute bun. For bangs you will apply small bristled comb to push it straight up to mid cheeks. You can fix small hair pins to hold it the tips scattered towards the back. 2.
Adorable wedding short hair with bangs Black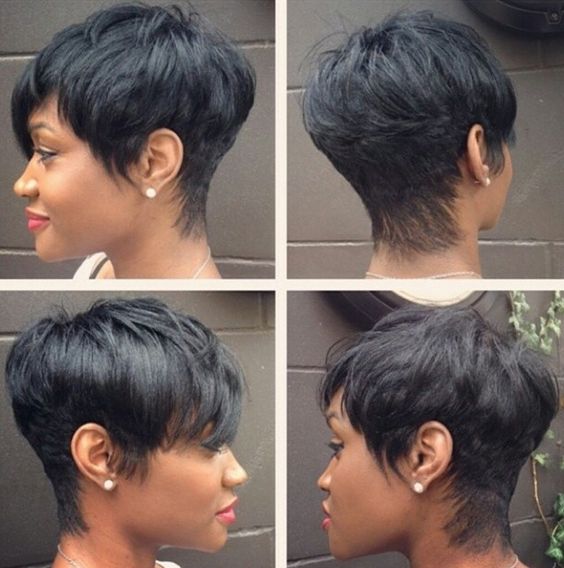 Source:
For this hairstyle on top can be worn on weave or on short relaxed hair that is trimmed on varying lengths and volume to shape the hair cut. Let's assume you have medium length relaxed hair and want to shape this haircut for your wedding. Hair at the back of neck is trimmed on light volume while hair on the sides and on top is reserved with more volume. Hair at the upper back of neck too is reserved with minimal volume compared to that on the sides. So the front part of hair is parted on to sides respectively; on the right hand side hair is pushed towards eye length with waves to pull bangs while the left part hair is trimmed according to the shape of face and round ears you trim hair with long tips at bottom of ears looking towards the back. Hair at the crown is pushed with more volume and shapely to make perfect short haircut with bangs.
Determine your face Shape:
the black babe in the background is wearing short hair with bangs on round face shape and if am not mistaken this is hairstyles that looks perfect on all face shapes of African American women so the only difference will base according to the length of bangs pulled on different face shapes for each hair cut to show perfect.
Hair product to apply
: Apply Jojoba Oil because it will keep your hair with fully moisturized, lock in sheen and healthy looking since it's formulated from natural extracts that have stood its record decade from decade like, castor oil, coconut oil and soy bean to make your hair strong and also fill your hair with vitamin E to support this cause.
Which styling tools apply?
You will need pair of scissors and small bristled comb to help you trim small volumes of hair until the shape of the haircut is done. You will apply the same size of comb to push hair with waves and finally you apply the tail of this comb to push parts of hair up and tip to varying directions for the haircut to shape perfect. 3.
Adorable braids pulled on bangs black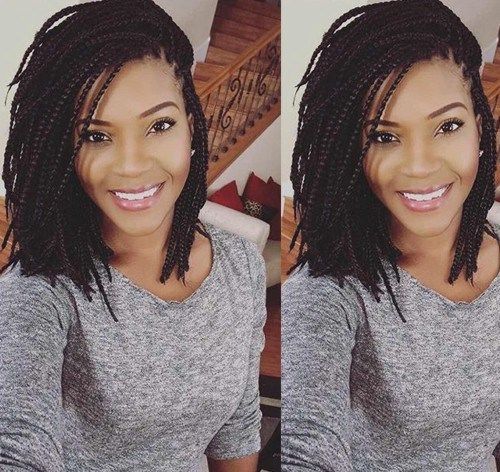 Source: 
Look adorable on your wedding with medium length braids that is pulled with twists. You can either make it using natural black color or apply two way color fibers to make your hair more colorful. for the black woman on top is wearing twists that feature both maroon and black colors at the end of day your hair looks colorful and easy to pull with different designs that will peace you off. You can make this make two to three days before your wedding to avoid hair from hurting you. it takes almost three hours to complete this hairstyle, you shouldn't be afraid of making this hairstyle even when your hair is relatively short once you have minimal length of natural hair that hold fiber firm the you can make it. You twist hair from bottom up to the last tip to touch shoulders. This is the easiest style one can go about when you push some hairs on the left side lower section towards shoulders then part of hair on the same side towards the right. So hair on the right is kept flowing on the same direction while part hair at front is pushed forward towards the right direction to push bangs. Then air at the back of neck is pushed towards the bottom. Mean while you can fix tiara few inches off forehead on the left side to look fabulous.
Determine your face Shape:
The black woman in the background in top is wearing braids pulled on bangs on long face shape, but to be realistic this is one of the hairstyles that looks great on all face shapes of black women round the globe. However if this styling doesn't conquer your heart their pretty more designs you can pull with this hair like; holding puff at back of neck. Holding hair on the side and hair in the middle as bun then leave rest of hair at the back flowing down and many more to hairstyles to mention.
Hair product to apply:
Use Dr. Miracle's Braid Relief 4 oz: because it penetrates deep through hair follicles to awaken dead hair follicles and to add sheen to your hair to keep it looking fresh. For most it continues to work on your entire hair even when you stop feeling it.
Which styling tools apply?
On clean scalp and hair you need handy; fibers to use to pull twists either use kanekanlon fiber or equivalent fibers nearest to you that can hold the texture of your hair firmly. You need small bristled comb with tail to help you pick small volumes of hair to add on yo your natural hair to make medium twists. You need weaving needle and thread to fix hair on certain positions to avoid shadowing you off. 4.
Adorable wedding blonde long hair secured with bangs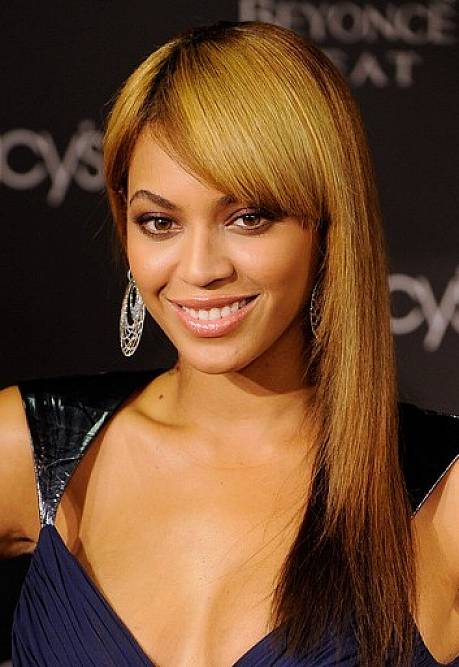 Source: 
Explore the beauty in wearing blonde long straight hair that you can push bangs with when you part hair at front towards the left covering half of your face then trim it towards the left eye and part of left cheek. Hair on the right front part is pushed at back of ears to flow towards the shoulders. Of course your natural hair is pushed with cornrows and on top you add blonde long weave. At the front you trim one side short towards the left eye length. As one of the world's celebrity Beyounce wore it to score that high, when matched it with fashionable blue outfit. This implies that her natural hair is pulled with cornrows as in going round her head. so only one weave can do you wonders if you want it to have volume you divide each piece into two just across the joining point. For the back section you fix weave applying one single piece but as you proceed towards upper back coming forward you keep on applying more than one piece for hair to have volume. When you reach mid crown you fix weave on the sides pushing hair on either sides to be able to push bangs perfect. you then make your hair using big bristled comb to make it manageable then some hairs at the front is pushed on the left covering half of your face then you follow with a trim to shape it.
Determine your face Shape:
the blonde long hair secured with bangs is worn on round face shape, to through more light on this hairstyle is that it looks wonderful on all other face shapes of black women out there. it looks colorful featuring light brown color on top then dark highlights showing round shoulders.
Hair product to apply:
On scalp you apply Argan Oil Hair Mask, 8 oz. Hair Treatment Therapy then on top of hair you apply hairspray to un frizz the weave, make it smooth and last to lock in sheen
Which styling tools apply?
To wear adorable wedding Blonde long hair secured with bangs you have to have handy the following; weaving threads to pull cornrows, have in place long blonde weave to apply on top of cornrows, weaving needle to join weave onto cornrows, pair of scissors to trim hair proportional, big and small bristled combs to make hair until is manageable, and last hairspray to add on to weave to make it smooth and to look original all time. 5.
Adorable wedding hair with bangs on sides black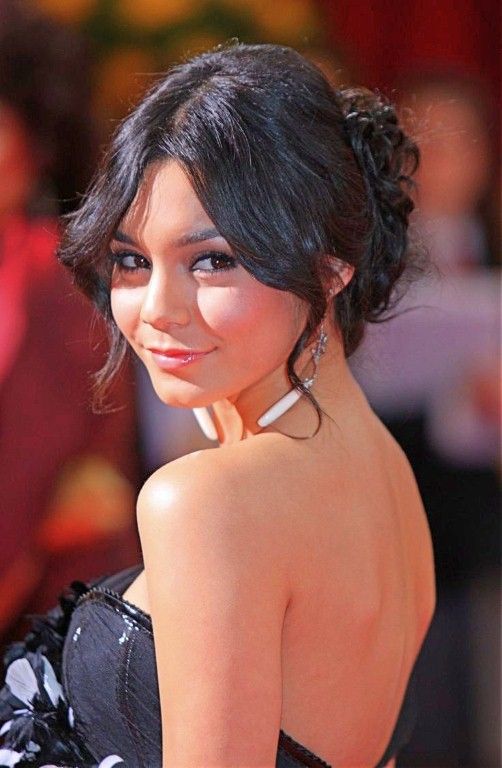 Source:
You might find it awesome pulling bangs on either side on medium length hair then at the back of neck you hold puff. You can wear this hairstyle on your natural hair or if you have hair that is short you probably apply weave to make your dream come true. The black bride up in the pictorial up has medium length hair she played it loose by parting front hair on to the sides while tips bouncing up to shoulders wavy. So the rest of hair going towards the back is pushed at the back of neck then tips pulled with waves and held as puff. This is one of the hairstyle that any black bride looks up to which is easy to make by you and takes less time too to make. This hairstyle in the background is drawn on relaxed medium length hair. If you so wish to make it without waves at the back you can as well apply wavy hair accessory to fix puff.
Determine your face Shape:
The bride up front is wearing adorable wedding hair with bangs secured on sides on round face shape, without consuming much of your time i strongly state that this exact hairstyle looks perfect on any black face shape. Once you have a clue about it and you can't do it by yourself then visit a professional salon for better results.
Hair product to apply:
Apply Design Essential Stimulations Super Moisturizing Conditioner 6 Oz to calm down dull looking hair into soft texture and easy to style.
Which styling tools apply?
Once you have handy conditioner, shampoo to wash your hair clean you also need in place big rollers to set your hair, big bristled comb to make hair after and before making your hair to make it manageable. You also need hair band to hold hair at the back then fix on top wavy hair accessory to hold puff.