Best Short Haircuts For Women Over 50
The more women age the more reason they get to keep themselves looking all fancy because at this age they have done almost everything they are obliged to and they sure deserve to look their best. I actually get angry when I see a woman at this age claiming she doesn't have to look good with the thought that she is passed that age where all you need is look gorgeous reason with ongoing trend every women has all the right too really fabulous irrespective of how old they are.
Short Haircuts For Women Over 50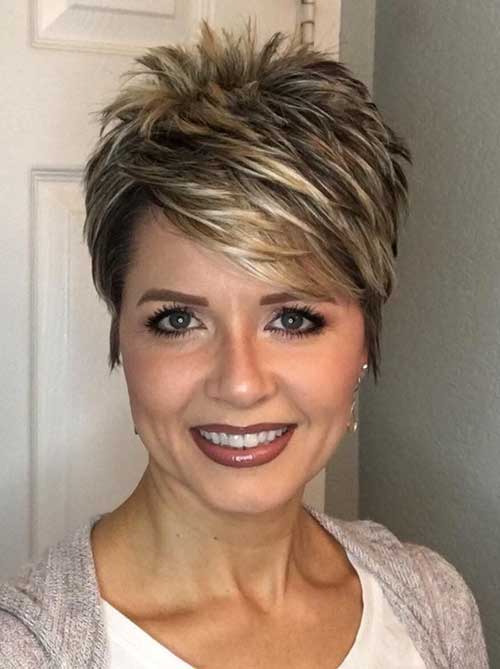 At this age the best advice that I can you is to go in for short haircuts because they make you look much younger, they are less troubling when it comes to styling, they do not need too much products and above all they are very flattering and classy at the same time.
Flattering Short Haircuts For Women Over 50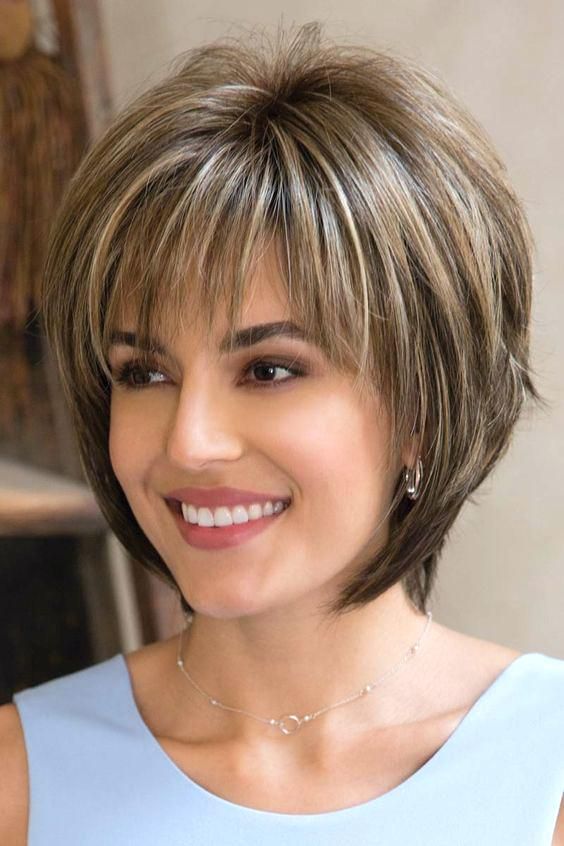 Pretty Short Haircuts For Women Over 50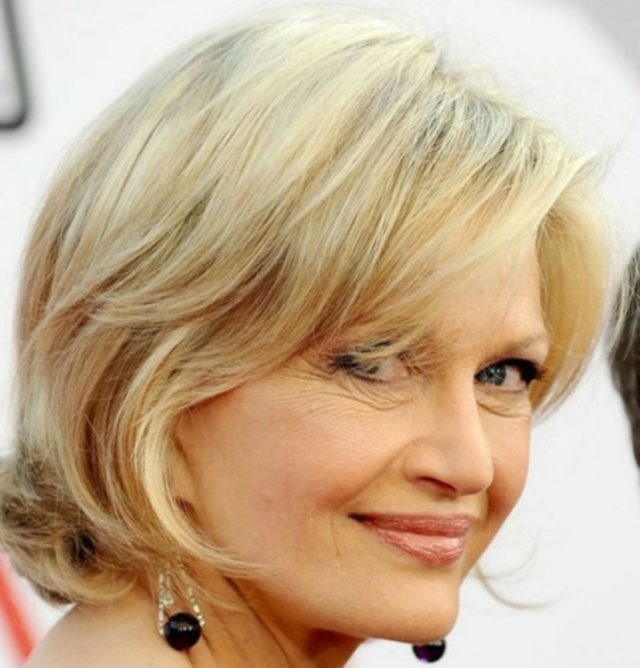 TRENDY SHORT HAIRCUTS FOR WOMEN OVER 50

After looking at this image I cannot help but admire how adorable this women looks with her lengthy and flippy layered haircut, her hair does not look over done but she looks absolutely elegant and sophisticated. If you have thick hair you can start having that smile on your face because here a really stylish and modern haircut that will come out really perfect on your thick hair.
The cut has a heavy bunch of layers forming a slight side parted fringe that covers a small part of her forehead and eyebrow with other longer curved layers falling to her cheek bones and jawline for really well framed appearance. The behind layers are flipped outwards giving the style more of a shaggy appearance and more texture especially at the crown yet the front top is kept really smooth. This style has absolutely everything for you to love about it.
WITHOUT WASTING TOO MUCH TIME LET'S CHECK OUT THE DETAIL OF HOW TO CREATE THE STYLE;

Add volumising cream, lotion or spray to damp hair, I have mentioned three but that does not mean you should apply them all only choose one of the three. If it is cream then so be it, if you choose to spray then it is okay as well. Gently brush through the hair to remove any tangles and evenly distribute the product through your hair.
Smooth hair by blow drying with a large round brush, start with the bottom and dry while brushing hair outwards. Move up to the middle, but since this hair is thick you should adjust the heat level to medium so that even the middle section dries up perfectly. Adjust the blow dryer to low heat again when you get the top and dry hair while slightly pushing it towards your face.
Take your flat iron to smooth over the layers more. Be careful when ironing because with the front layers you have to curve hair inwards but when you move to the behind layers you have to iron while flipping the ends outwards.
For that really shiny appearance add a small amount of shine serum and then set the style with a finishing spray.

HOW TO CARE FOR YOUR HAIR?

Conditioner is good for your hair but if it is not rinsed out completely then it may become toxic for your hair. After applying conditioner you are recommended to leave it in for just a few minutes then rinse it out completely with clean water, to be sure rinse your hair twice or thrice.
LAYERED SHORT HAIRCUTS FOR WOMEN OVER 50

This layered is very stylish, elegant and at the same time very suitable for her age, it is not all about pulling off a modern haircut because if it does not look appropriate for your age then you would have done totally nothing. The haircut is perfectly styled with a really good amount of texture and a very good amount of volume where by hair is not over falling down on to her head but then again it is not too volumised.
A few hair strands are brushed towards her face from the forehead and the side burns to create a very flattering frame for her face shape. Besides loving her dark hair color and how healthy her hair looks i also love the way her layers are broken it really adds that trendy detail that her style needs to stand out even more beautifully.
THIS IS THE PROCEDURE TO HELP YOU CREATE THE STYLE;

With your hair still wet, apply extra body sculpting foam and gently rub it into your hair to ensure that it completely infuses into your hair. The essence of this foam is to help give your hair some extra volume after blow drying.
With the help of a large round brush, blow dry hair behind and brush some hair strands towards the face to create that light fringe.
Add texturizing product on your finger tips and start breaking up the layer and arranging hair more into the shape you want it to have.
Mist hair with a lightweight shine spray and give your hair more hold.

HOW TO CARE FOR YOUR HAIR;

When towel drying hair you should always use a micro fiber towel instead of just any towel, those towels have very strong fiber in that each time you use it on your hair it rubs out the moisture in your hair causes friction which causes hair to break.
BLONDE SHORT HAIRCUTS FOR WOMEN OVER 50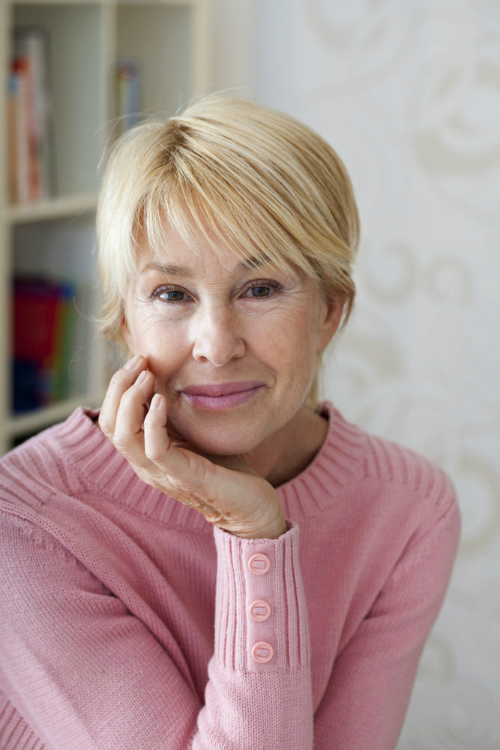 Apart from her gorgeous blonde color contrast this haircut is also style more like a graduated bob with behind layers cut shorter as the front layers are left longer though there is just a very slight difference. Even when we see only the side view of her look in this picture it is still not hard to tell how perfect the style is on her oval face shape because with all those layers curving upon her face there was surely no way they style would fail to frame her face to perfection.
The cut also features a slight side part and right in the line of the forming the side part we notice strands highlighted with brown. But as you move back into the style towards the crown, hair turns blonde then in the bottom it is again detailed with brown, this kind of color contrast is just too professional, I love every bit of it. The style will definitely look great on any hair type.
CREATE THE STYLE AS SHOWN BELOW;

From the shower, go directly into the style by applying styling lotion to your hair when it is still wet, this will help your hair to easily take up all the product you apply.
Use a styling brush to blow dry hair, create a dramatic middle parting from the hairline backwards and start drying hair while brushing it downwards to both sides of the head. Endeavor to push or curve hair forward towards the face just like it was done in the image.
Smooth hair from the middle to the ends with a flat iron leaving the top looking shaggy, in fact use your fingers to tease more at the top.
For added texture throughout the style, apply a small amount of lightweight texturizing spray.

HOW TO CARE FOR YOUR HAIR?

Make sure that you trust the stylist you take your hair to for styling, not everyone who works in the saloon is good enough to give your hair to cut. Make consultation from your female friend that have cut their hair before or make good research then you will be able to find someone who is good enough to trust your hair with.
CURLY SHORT HAIRCUTS FOR WOMEN OVER 50

If you naturally have curly hair now is not the time for you to fight with it trying to make it straight when you can still look super gorgeous your natural curly hair. Just a good haircut will help is all you need to get you yourself that really stunning and trendy look. Your naturally curly hair has its own natural volume and beautiful texture so you will only need to go in with right amount of products to give yourself a totally breathtaking appearance.
In the picture we spot a lady very confident about her short curly hair that has really smooth layers falling to her ears and back to her nape. All the curls are styled away from her face so if you are not a fun of bangs this style will surely work for you. Like I have always said cutting your curls short is a shorter route to making your hair a lot easier to manage.
CREATE THE LOVELY CURLY STYLE WITH THESE STEPS

After getting a very good and quality haircut, thoroughly wash your hair and while it is still wet add your favorite styling product beginning with the roots to the tips of your hair.

Dry hair with a diffuser and your fingers, keep opening up hair under to ensure that you dry each and every part of your hair to 90%, let the other 10% air dry for a more natural texture. If you happen to have enough time you should let your hair air dry completely though it may take some time it is much safer and yields better results for naturally curly hair.
Apply texturizing product to your finger tips and add scrunch it into your hair for added shine and texture.

HOW TO CARE FOR YOUR HAIR?

Always buy satin pillow cases they are gentler with your hair compared to any other cloth material. As you sleep at night a lot of tossing and turning goes and the friction that is caused will cause your hair to break and make your curls lose their shape. Also remember to sleep with your hair covered up in a hair net or head sock.
STRAIGHT SHORT HAIRCUTS FOR WOMEN OVER 50

This adorable looking lady is wearing a short straight bob haircut with a very light fringe that frame her face shape perfectly while leaving enough space for her face shape to stand out. This bob haircut has the right amount of volume throughout and its length is nothing less than perfect with the bangs curving down to hug her neck. She is spread down to her face with a very slight part away from the middle, the bangs nearest to her face are cut shorter than the rest of her hair.
The straight haircut works well with fine, thin and thick hair as well but will be much easier to style for those that have naturally straight hair, round face shapes will look with this haircut. There is now way you will not turn heads with this look reason being it doesn't only stop at being perfect for her face shape but it is also very modern and brings out such a sophisticated appearance.
GET YOURSELF THE CLASSY LOOK USING THESE STEPS

Add styling product to towel dried hair, when I say towel dried I do not mean that you should dry hair completely with a towel. You just have to remove that excess water that is dripping.
Take up your large round brush and blow dryer to blow out your hair and make it smooth.

Spray hair with a heat protection spray, after hair has dried completely you will need to use another heat tool to smooth hair more so it is very safe to protect your hair first with a heat protectant.

Take small section of hair and smooth them over with a flat iron, as you iron ensure to curve the ends under. Keep taking small sections until all your hair is as smooth and shapely as you want it.

Apply a very small amount if shine serum and spray hair to finish.

HOW TO CARE FOR YOUR HAIR:
Look for a very good thermal protectant so that it not only protects your hair from getting damaged by heat but also gives it lasting hold for a good period of time.