10 Cute Black Braided Hairstyles With Bandana
There are many different ways in which you can adorn your braided hairstyles so that they look new and fresh every time you wear them to any occasion. Wearing your braided hairstyles with a bandana is one of the best ways in which you can beautify your braided hairstyles for an exciting look.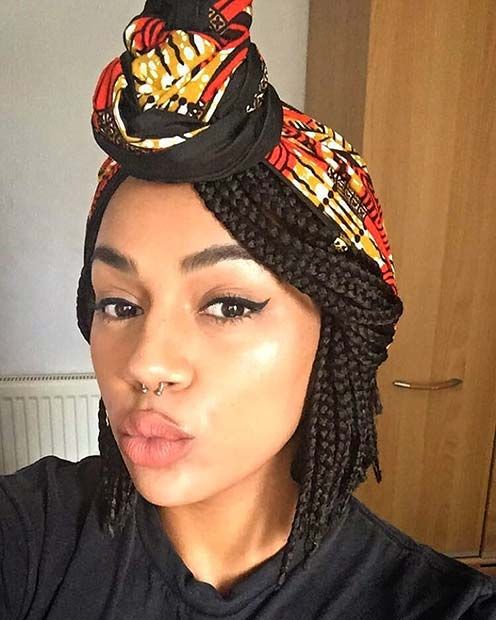 Black Braided Hairstyles With Bandana Other ladies will opt to accessorize their braided hairstyles with a scarf, other girls will go for beads (checkout these remarkable braided hairstyles for black girls with beads), or opt to use hair decorates such as hairclips, or hair pins in various shapes, colors and designs.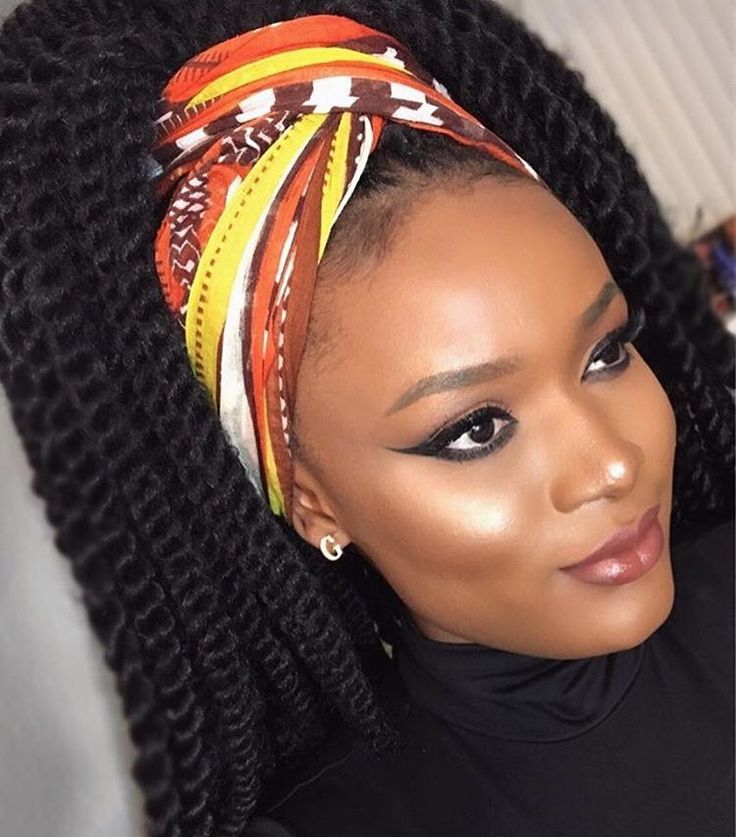 Whichever way you choose to accessorize your braids, braided hairstyles with bandana will always best the most outstanding braided hairstyle with decorates that has various ways to style your braids around your head.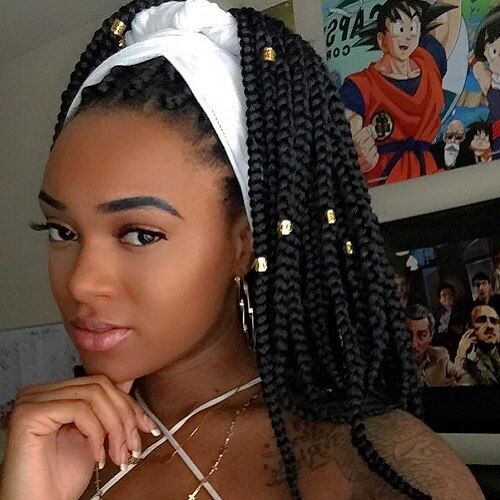 If you disagree, you better take a look at these amazing black braided hairstyles with bandana that we have featured in this post as they will change your perception and you will definitely have no choice but to try one of these braided hairstyles with bandana which has stood out for you.
It's important to remember that you can accessorize any of these black braided hairstyles with a bandana and you will look great and charming for most of the formal and casual occasions.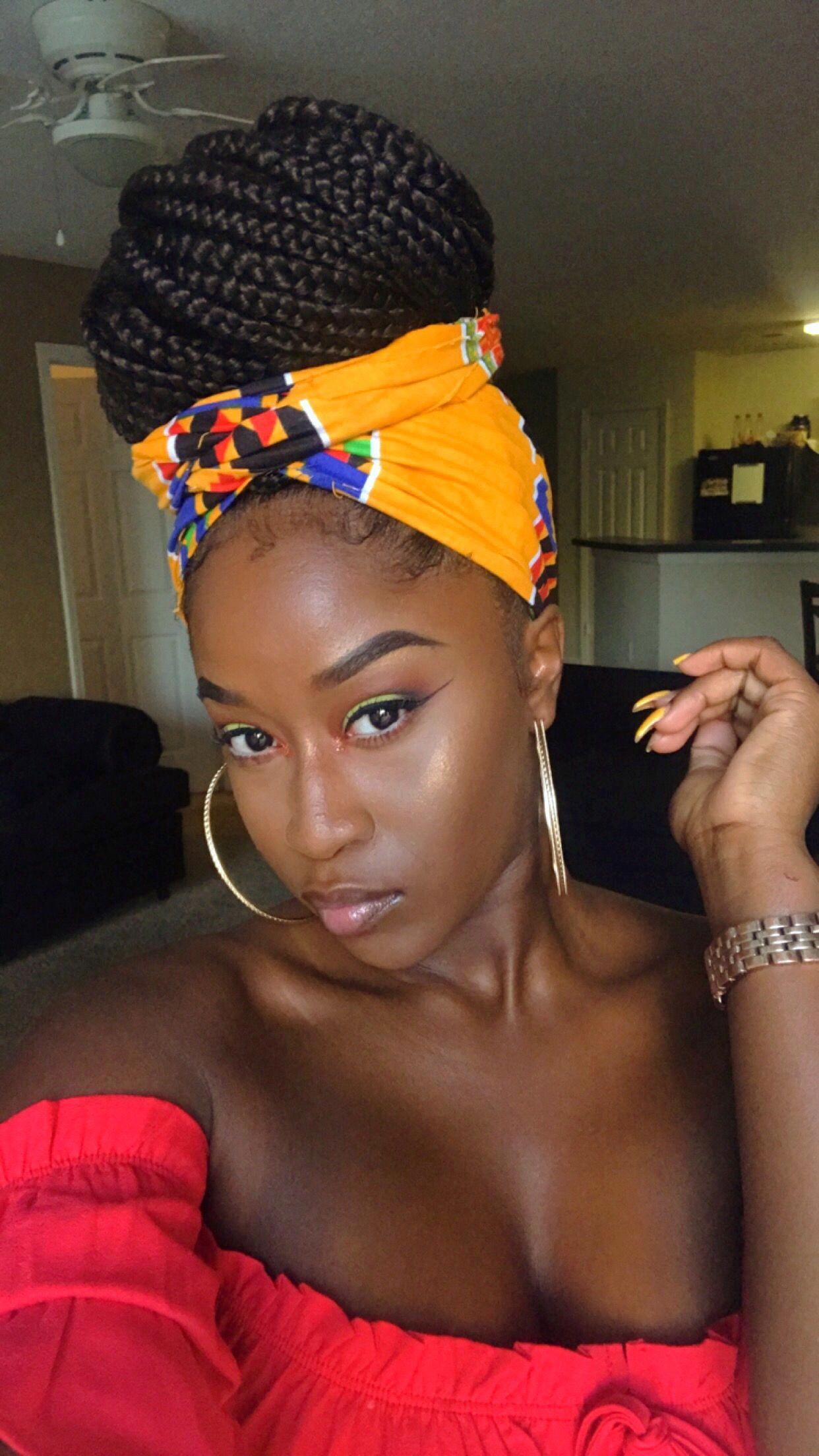 Here below we bring to you several braided hairstyles for black women with bandana such as box braided hairstyles for black women, dreadlocks, sister-locks, Senegalese twists, and braided hairstyles for long hair, among others in different black braided updo hairstyles.
BOX BRAIDS HAIRSTYLES WITH BANDANA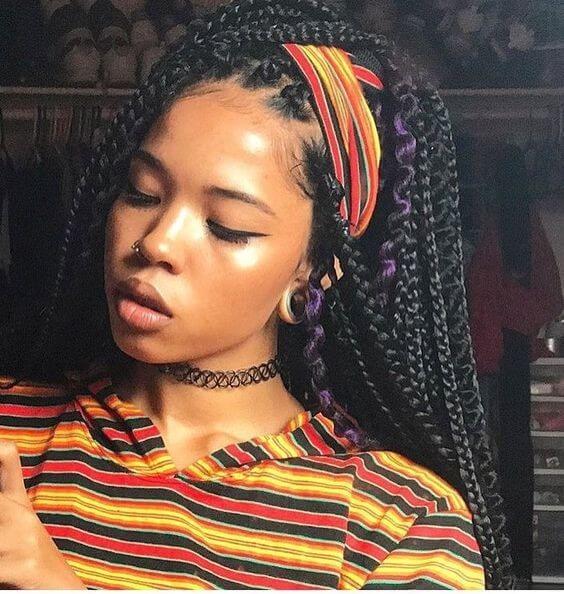 Box braids are protective braided hairstyle for black women which have numerous different way to install and style them on your head. We managed to feature a single post that brings out the various styles of box braids hairstyles for black women from which you can choose one and then beautify it or style it with a bandana.
After choosing the design and size of the box braids that you want to install on your head, it's now time for you to stall them in a way that will look great on you with a finished braided hairstyle.
Choose any of the best printed bandana that will match with the attires you are going to wear as you will use it for wrapping around your head. Gather or pull the box braids together as if you are going to form a high ponytail and secure them with a ponytail holder or using a bun maker.
Genteelly style the braids around the ponytails holder (bun maker) to create a huge high bun. Since the braids are long, you can now get your bandana and wrap it around the head to secure the ends of the braids and fasten the bun in place.
As you can see in the image above, the beautiful lady choose printed bandana that complemented the black dress she wore. You too can style your box braids with a bandana by getting a few ideas from this amazing black lady to come up with your own creative and distinctive box braids hairstyles with bandana.
BRAIDED UPDO HAIRSTYLES WITH BANDANA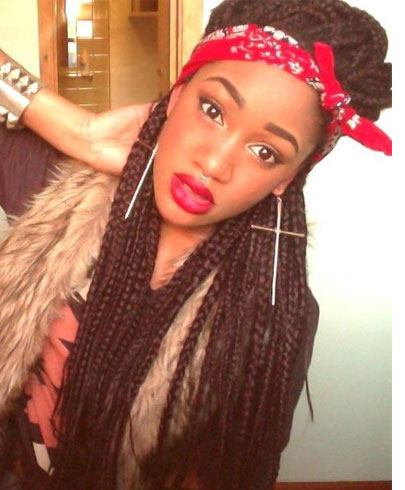 Do you love braids hairstyles at the same time updo hairstyle and wondering how you can achieve both of them in the just one hairstyle? Well just relax as we present to you this miraculous African American lady featuring a braided updo hairstyles with bandana.
Sometimes you might go for long braids hairstyles and comprehend that wearing them down is becoming boring or monotonous or perhaps you just want give your hair a new fresh look? It will be a good idea if you try to wear your braids into an updo hairstyle.
Though long braids become or actually are heavy on your head more so when styled into an updo as compared to wearing the braids down, the beauty they bring to your face outweighs the heaviness or bulk they put on your head.
This beautiful African American lady had her long braids styled into an updo (frohawk) with a braided pompadour at the front. The pompadour frohawk like design was brought about by the way she wrapped, tied or styled the bandana around her head.
You can create any updo style using just a bandana as portrayed by the lady in the image above. We guess in this case, even a scarf can serve the purpose of a bandana and you will have that updo which you have been yearning for.
CHARMING BRAIDED HAIRSTYLES WITH BANDANA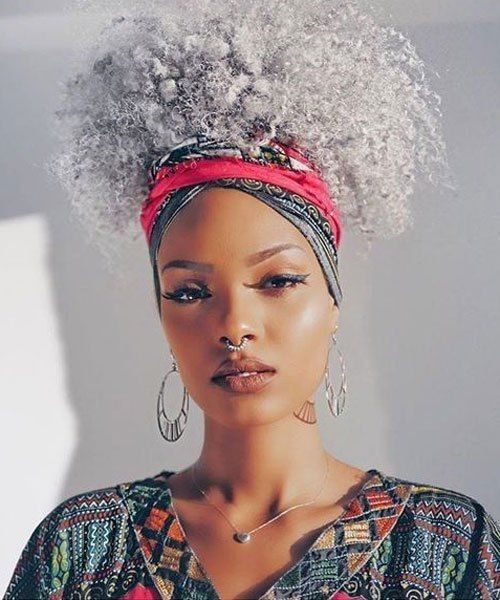 Are you or your friend tired of wearing your long twists or medium length twists down and would like to give them a new stylish and classy look? A bandana will help you to attain that classy and stylish look as it will give you several options in which you can style your braided twists on your head.
Take an instance of this beautiful black lady who had her hair installed into long twists then styled with a scarf into a twisted bun as portrayed in the image above.
Begin by preparing your hair so that it's moisturized, clean and nourish so that it's easy to work with during the styling process. You might need to wash your hair if you have taken long without washing it and may be shampooing if essential to remove any product residues which might have accumulated on the scalp over time.
With your head facing down (upside down) wrap a clean dry towel around your head so that it absorbs the excess water dripping off from your head. If not in a hurry, allow your hair to naturally air dry by sitting under a shade while doing some other work (like reading)otherwise you might need to use a hairdryer for quicker drying.
When your hair is dry to a recommended degree, apply styling products such as hair moisturizer, nourishing products and then gently comb through to evenly distribute the products at the same time removing any tangles or knots from your hair.
Get the hair pieces (extensions) from their packs and begin to install the twists on your head. Make sure you install the twists in uniform designs and sizes all throughout your head for a neat braided hairstyle.
Gather the twists on top of your head as if you are going to create a braided hairstyle for black women with ponytail. Secure the base of the ponytail with a doughnut bun maker and then evenly distribute the twists around the bun maker so that it's not visible at any one point.
Tuck the ends of the twists into the bun and then use the bandana to fasten the bun in place. The bandana will also cover up the loose ends of the twists and any fly off braids. The color of the bandana you choose will help in adding beauty to the hairstyle thus the need to choose one that will draw attention to your face making you look attractive and noticeable
These kind of braided hairstyles for black women are ideal for formal occasions, work which engages a lot of movements (bending, squatting, running / sports, jumping, weight lifting) and any special occasion.
ENDEARING BRAIDED HAIRSTYLES WITH BANDANA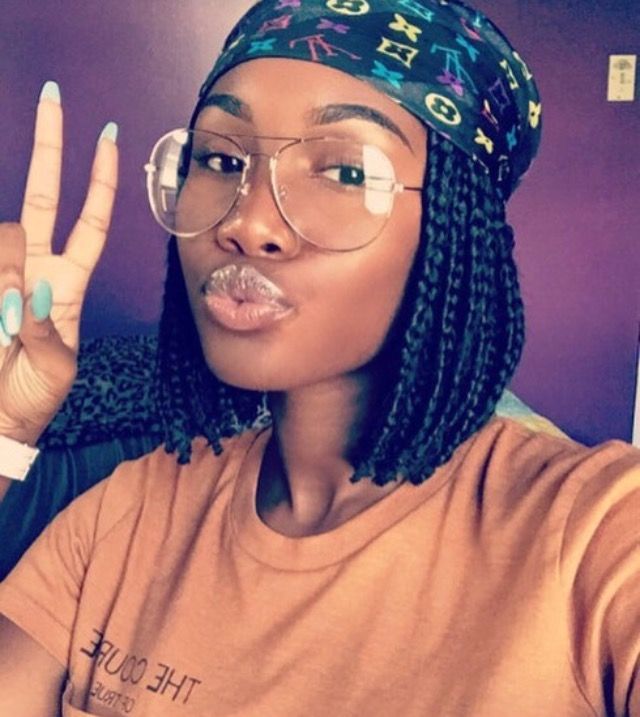 Some African ladies when they install bandanas to their braided hair they really look amazing which gives us a challenge to try their way of styling braided hairstyles with bandana to have a look close or similar to theirs.
This black lady shows off one of the most stunning and endearing braided hairstyles for African women with bandana which made her look like an African goddess or African queen. It's a quite unique braided hairstyles with bandana which is not commonly seen being styled by African Americans.
Therefore if you are a black or African American lady with braided hairstyles and would like to give it a look similar to that of an African princess, then this endearing braided hairstyles with bandana will be right choice for you.
Her hair was installed into nice colorful big twists which were then gather towards her forehead. The braids (twists) were then completely covered by wrapping a bandana around them leaving only a few pieces at the front which were styled to form fringes swept across her beautiful face.
You as well can try this kind of braided hairstyles with bandana. What you might consider changing is the way you wrap the bandana or scarf around your braids so that the style looks distinctive and irreplaceable on you.
If you are to look closely at the different colors of the bandana (scarf), they perfectly matched with the chocolate tone of her skin which indeed gave her a notable and splendid look. Wear your traditional attires such as Kitengi (Chitenge) and you will be good to go to any ceremonial event in your village or any part of African.
GORGEOUS BRAIDED HAIRSTYLES WITH BANDANA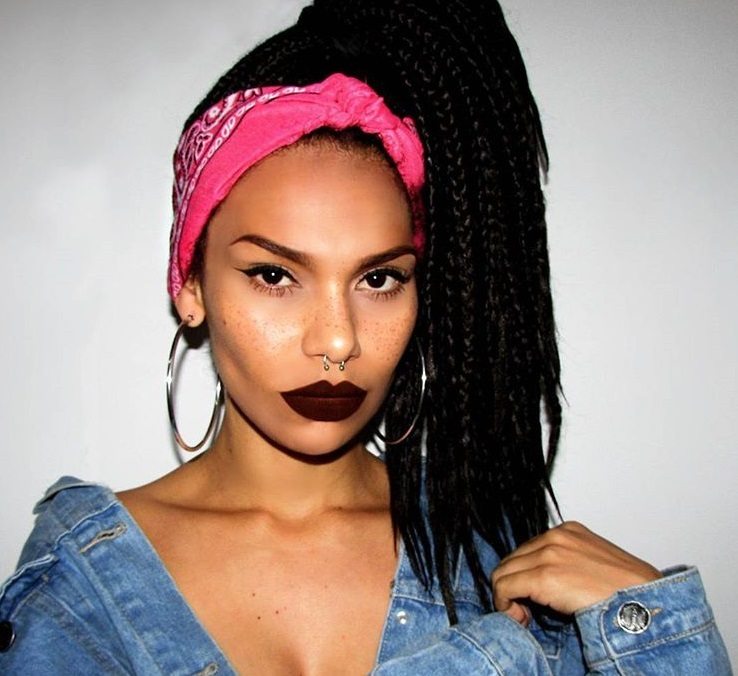 Dreadlocks, sister-locks, mention it all can also be give a new creative look by styling them with a bandana or scarf. If you have never thought about it, you better try it on your locks and see how gorgeous the style will look on you.
We bring to you this black lady featuring dreadlocks that were installed on her head in an amazing design. With dreadlocks or sister-locks, you can wear them on your head for months thus the need to be creative in the way you style and wear them so that you look as if you are wearing a different braided hairstyle.
Her dreadlocks were then gather to one side at the front and then secured in place using a scarf. This is a good way to give your hair a casual look over the weekends or in the evenings when enjoying your leisure time with friends. Wear your usual casual attires and you will be good to go.