20 Stunning Braided Hairstyles For Black Girls
It's kind of interesting and exciting to see your girl wearing braids that definitely look great on her and charms her looks. This isn't easy to achieve as you have to find the best braided hairstyle that suits your girls according to the shape of her face, the occasion she is dressing for, the looks she wanna achieve plus the tone of her skin among others.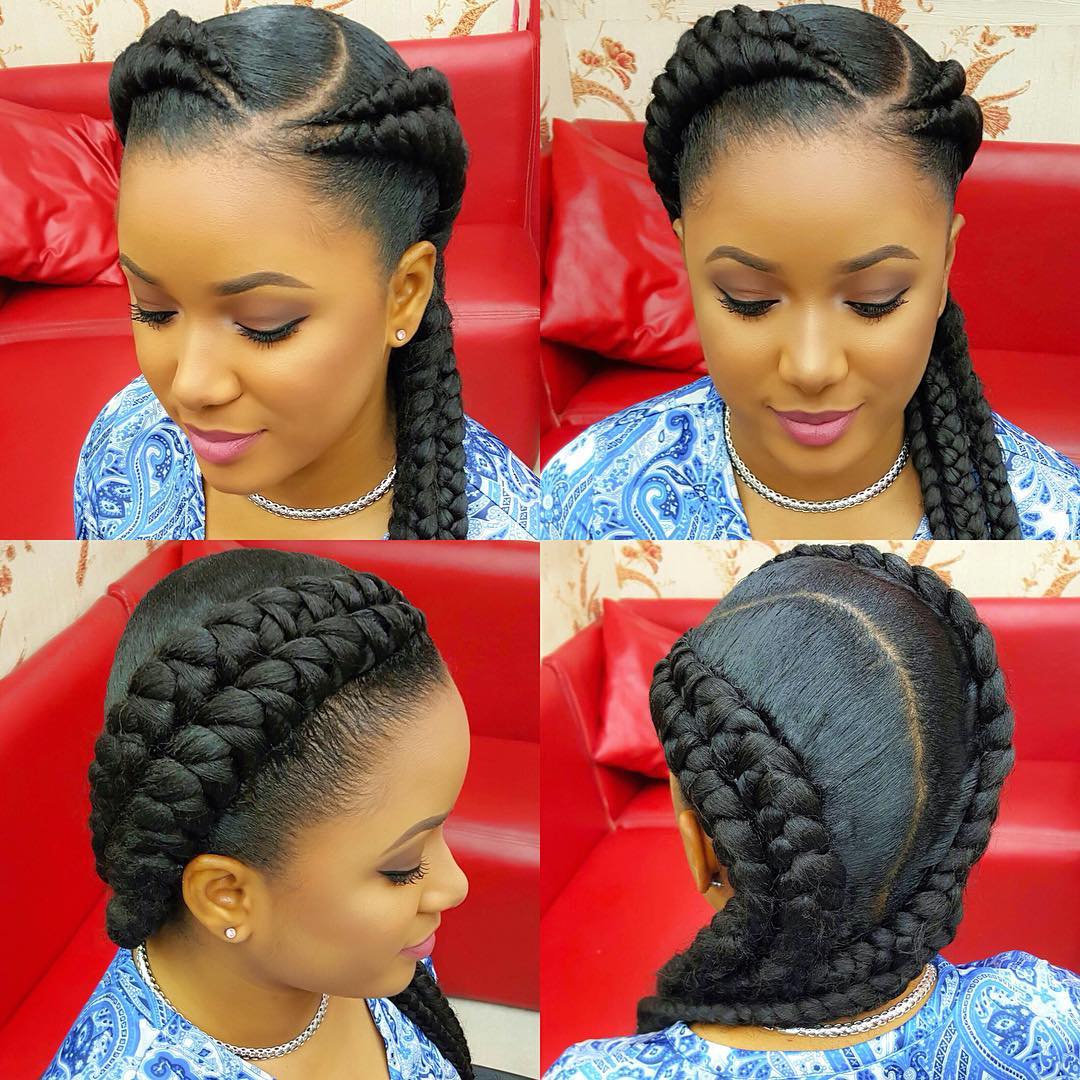 This calls for professionalism to choose the most stunning and elegant braided hairstyles for girls that will give your
girl a charming look on her pretty face which in turn will make heads turn and necks bend to whosoever spots her walking down the streets or at any occasion she intends to be part of.
Braided hairstyles for girls have been embraced over the years in the hair fashion world for quite a number of reasons.  For this reason therefore, we are going to explore their openness to creativity and innovativeness.
When opting for Braids, you have quite a number of many various benefits that you will achieve which includes; you will forget about your daily or weekly routines of hair-styling for weeks and maybe months which in turn will save on your dress-up time, allow creativity and can be made to suite one's desired shape, size and patterns or designs, are versatile thus will and can support many different ways of plaiting i.e. cornrows, micro braids, black braids, fishtail braids, black braided buns, French braids, hair braids, twist braids, tree braids, among others.
On choosing a desired style and thickness of the braids, you may style the braided hairstyle into the innumerable hairdos depending on your preference and the looks you want to create. Meaning their flexibility character really makes braided hairstyles for girls the ideal choice in to any occasion or event they are dressing for. Some of the trending braids hairstyles for girls include the following much as the family is still growing due to the creative nature of the braids and the creative fashion minds across the globe that work day and night to always have something new to offer. They include the following;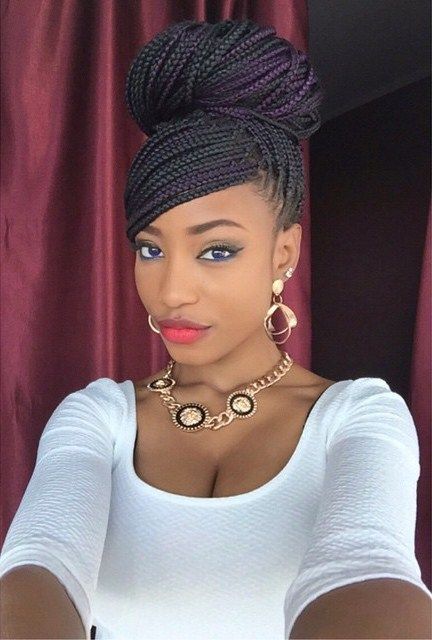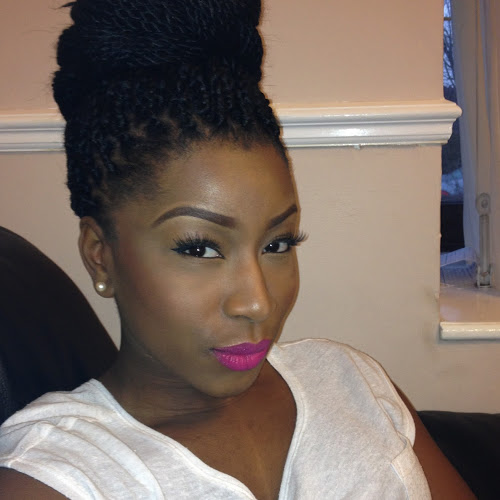 TWISTED ROPE BRAIDED HAIRSTYLES FOR GIRLS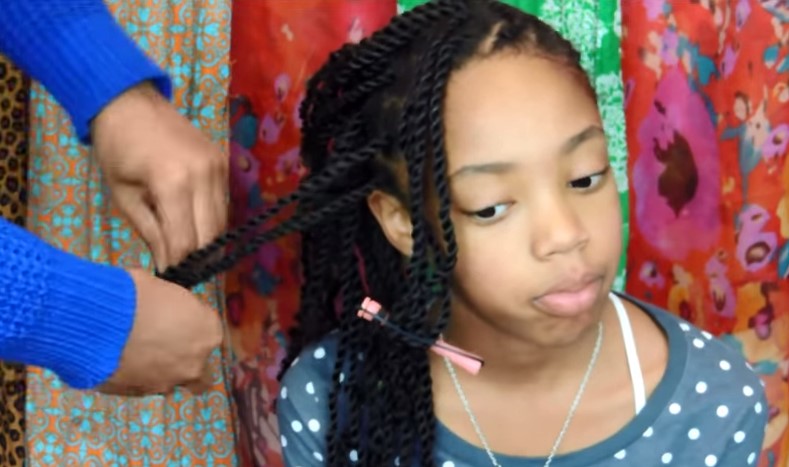 Twisted ropes is mainly most styled by white girls but of recent even black girls have adopted this kind of braided hairstyle and it truly looks great on them. Look at how stunning, cute and elegant this black girl looks like with her hair styled into half-cornrows and twisted rope! You too can give your girl that awe-inspiring look by trying on her this kind of braided hairstyles for girls.
Twisted rope braids refers to the category where braids are twisted into ropes to achieve a design or pattern like the one portrayed in the image above. Twisted rope braids hairstyles for girls' embraces protection of hair from harsh conditions and can be worn on your head for a while.
CRISSCROSS GODDESS BRAIDED HAIRSTYLES FOR BLACK GIRLS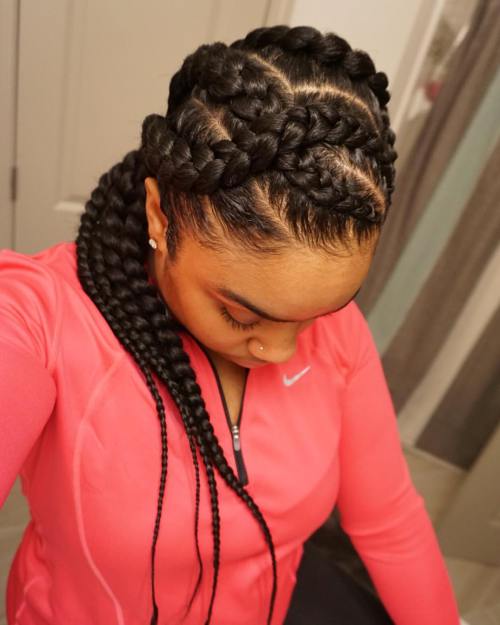 Goddess braids are one of my favorite braided hairstyles which I used to wear when I was still a girl. They looked great on me and I would rock them to any formal, special or casual occasion. You too can opt for this kind of black braided hairstyles that will look great on you or your girl. However, these Goddess braids hairstyles look great on ladies whose tone of the skin is chocolate or light. For ladies with dark skin, personally wouldn't recommended this braided hairstyle for black women for you. But if you are certain that it will look great on you, why not to try it out.
The beautiful and charming lady in the image above brings out a goddess braids hairstyle featuring nice big goddess braids with a crisscross style. The braids towards the nape of her head were gathered on one side of her neck to form a lower ponytail. You can dress like this when going for a wedding, business meeting, work or any casual happenings. All you need is to choose the appropriate attires that matches with the occasion you are dressing for and you will be good to go.
BOX BRAIDS HAIRSTYLES FOR BLACK GIRLS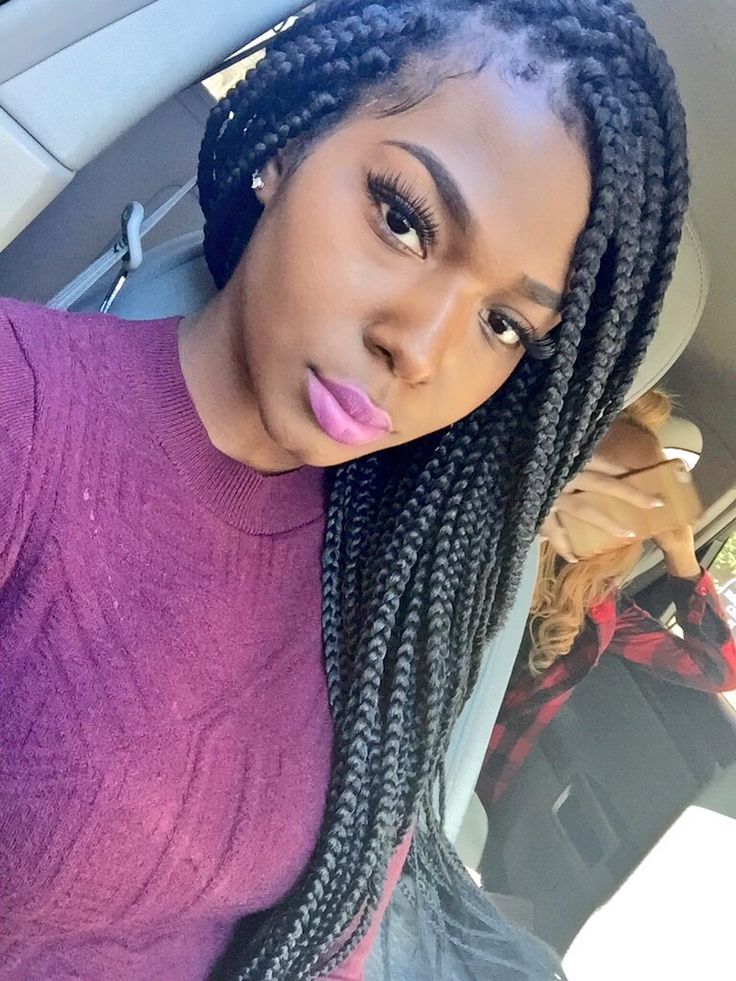 Common in the present day women look more like daring with box braids styled on their head with variations in the size and designs of the box braids (parting in a triangular format).  These box braids at the base are kind of big in size and as you continue towards the ends of the braid its size reduces. This alone make the style look unique, stunning and fabulous.
To best achieve this style, you might be required to oil of the scalp to keep the bases moisturized. You can Do it yourself (for experts only) but if you aren't certain on how best you can do this style, we would recommend visiting a professional hairstylist so that he may help you to achieve such a remarkable braided hairstyle for girls.
You can wear this kind of braided hairstyle for girls on your head for a couple of weeks or months provided you maintain the braids appropriately by regular moisturizing and dealing with any fly-offs braids and or any baby hair which might grow along the hairline. This can be done by first using water based products and then oil based products in order to lock the moisture within the scalp since the scalp is exposed to a lot of different environmental hazards most of the time.
BRAIDED BUN HAIRSTYLES FOR BLACK GIRLS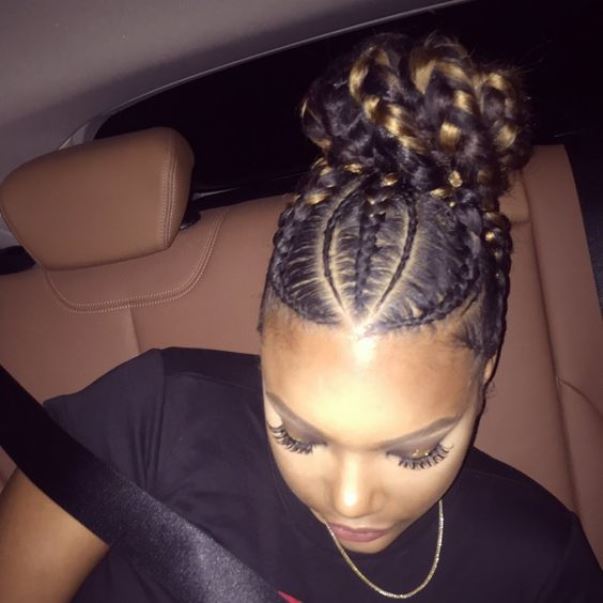 You may opt for the same braided hairstyle like the other ladies but what matters most is the way you style it on your head so that it gives you a unique appearance from other ladies wearing the same kind of hairstyle. There are many different ways you can style your braids to make the braided hairstyle look unique, pretty and stunning.
Among the various styles and designs include, styling it into bun (high bun, low bun, side bun, or two or more small buns), ponytail (high ponytail, low ponytail, side ponytail, or two pigtails on either sides of your head), among others. For this particular braided hairstyles for girls, we bring to you a mixture of big braids combined with micro braids which are styled into a high bun.
Big braids were in the start reserved for older women but fashion recycles and now even the young women are tending towards the style.
The micro braids as seen in the illustration are blended with the bigger braids to achieve the stylish finish. They are later sewed into a bun at the top as revealed in the above image to maintain the strength expected of a braid.
Quite frankly, these kind of braided hairstyles come with some tension on the hair especially at the base (it's a little bit painful when still new but painless with time because of the tightness at the bases) and may not be recommended for ladies with hair breaking problems.
LONG BRAIDED HAIRSTYLES FOR BLACK GIRLS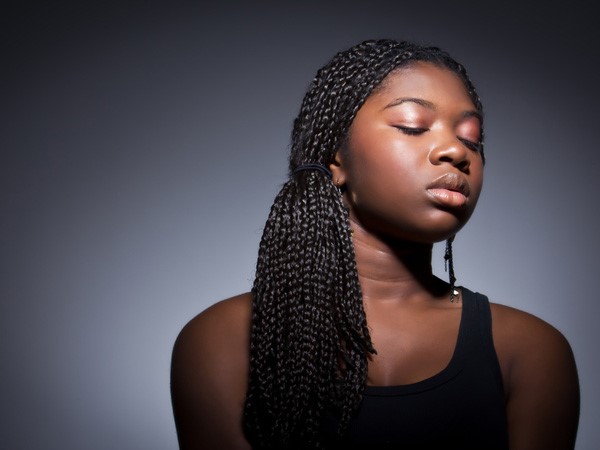 Long hair is a fun piece hair to deal with when it comes to choosing which kind of braided hairstyle to do on your hair coz it has quite a variety of many different braided hairstyles which you can choose from to look stunning on any occasion you are dressing for.
Long braided hairstyles is one of the different styles which you can opt for to do on your long hair. However, it should be noted that even when your hair is of medium length or of short length, you can achieve a long braided hairstyle in that you will have to opt for human hair extensions with color similar to that of your natural hair.
Like this beautiful black girl portrayed in the picture above, she brings out a simple yet cute and stunning long braided hairstyle for black girls which was styled into a side ponytail on over side. You may opt for another way to style your long braids such as styling them into a bun, a Mohawk or any other style that you might think of.
BLACK BRAIDED MOHAWK HAIRSTYLE WITH HIGH BUN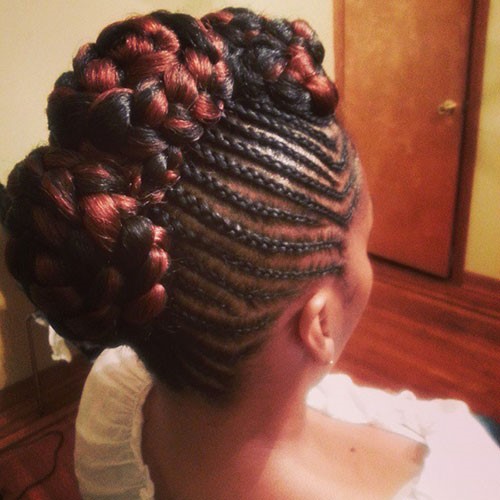 Braids don't need to always play security but rather for style in same cases.  Combining a Mohawk braid with a high bun is new and unique in the hair world but may call for some extra attention just like the saying goes "Quality comes with a cost".
They call for high miniaturization levels and are a bit more expensive to plait. The hair is tensed so much on the sides than the top to achieve the Mohawk look, twisted at the back and sewn into a bun at the top. It's quite a daring hairstyle but worth the try.
It is mostly recommended for casual gatherings and corporate parties but not the kind of style for formal meetings and official luncheons simply because it portrays a lot of casualness. But nonetheless it's worth the try for self-employed ladies who don't mind going astray for the sake of style.
BRAIDED HAIRSTYLES FOR BLACK GIRLS WITH PONYTAIL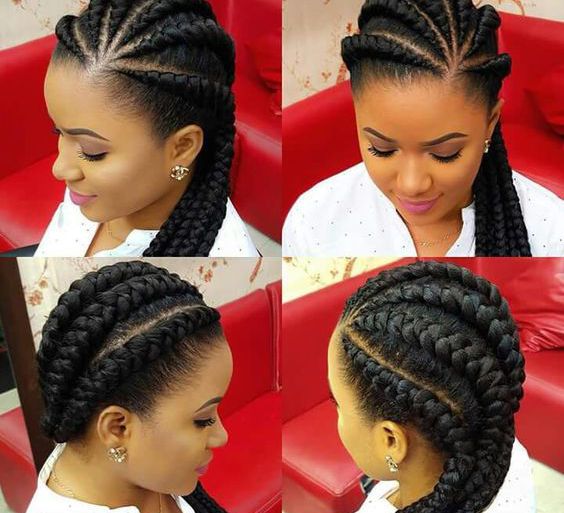 Braiding hair is at times feeling heavy when it comes to some hair-plaiting styles. This is where the braided ponytail comes in a combination of micro braids with big parent braids having child braids to the parent braids again.
This achieves a light finish since all this ends up in medium sized long braids that hang into a pony tail. It results in an excellent up do that won't pull on with the edges but still provides a light finish that the pony tail is intended to achieve.
It is a long lasting hairstyle that also doesn't affect sleeping postures. It's also classy and recommended for casual gatherings. It is quite a style for the ladies that love going simple yet a bit sophisticated.
BLACK BRAIDS HAIRSTYLES WITH LOW BUN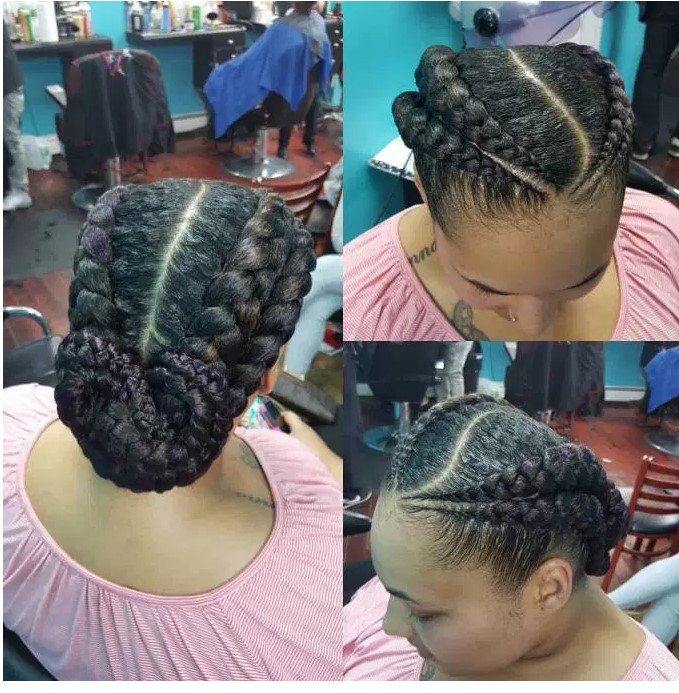 Experimenting with a color touch besides length and thickness in unique fashion trend through your skin complexion is a vital factor when choosing color. When the right color is selected one can be eye- catching.
These are achieved with four big cornrows on either side of the head the endings are then sewn into a big bun at the end. A light purple color is achieved with purple strands of artificial material used blended with the major black color of the same material.
This is done in a ratio of 1:4 of purple and black respectively. This is so as to prevent the minor color from dominating the major color. Hence the light purple finishes. Results are quite amazing if a color in correspondence to the skin complexion is chosen correctly.
FISHTAIL BRAIDS HAIRSTYLES FOR BLACK GIRLS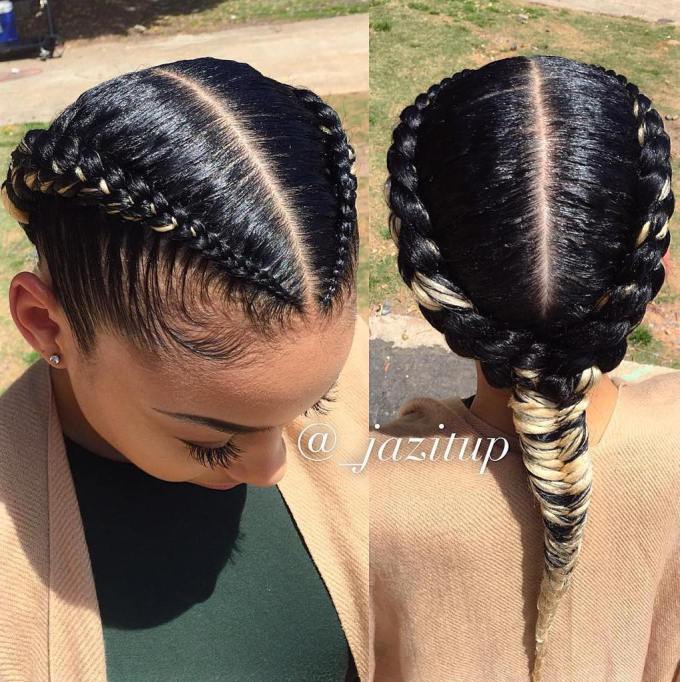 They are famously known as boxer braids. This is because of their nature of simplicity. They simply comprise of two cornrows on either side of the head using ones natural hair. This style is embraces by female boxers who regard this style because of the easy nature of plaiting and un-plaiting because of the need to frequently wash their hair because of the constant sweat it contains from there vigorous training activities.
Hair stylists have innovatively gone ahead to modify this style even for the day to day hair style lovers. This look has been around for quite some time but addition of a fish – tail braid can be fascinating and of a platinum – type.
The style is termed crown because the cornrows have to be plaited in the circumference shape of the head that a crown mimics rather than the edges of the head that most traditional cornrows take. The braids are blended with a color of ones choice though white has been chosen for this case.
BRAIDED UPDO HAIRSTYLES FOR BLACK GIRLS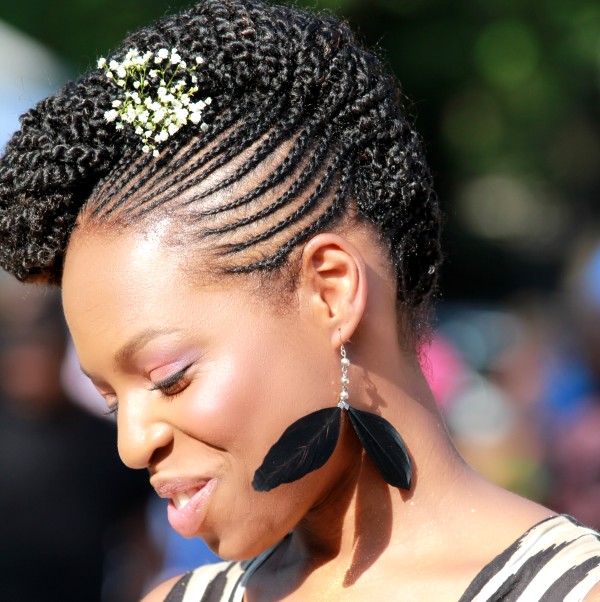 This hair style is recommended for style lovers on a formal event. Gone are the days when braids were for only casual events. Braids can now be modified to also suit formal events or what we can call the elegant looks.
A mixture of different sized braids will bring about a forward- fashion up do for black women. A styled bun can be made to achieve durability of the hairstyle. Just like the way it looks, it calls for high miniaturization levels as well as combing in order to achieve the expensive, organized and clean look any corporate lady has to always offer.
It is a time consuming style and expensive to maintain because it has both braids and natural hair to display. But just like it is evident, the results are never disappointing but it should be noted that maintenance is key. It comprises of a mixture of different braid sizes as shown in the illustration.