5 Eye Catching Haircut Ideas For African American Girls
I guess you have seen different haircuts on either girls round you or fashion magazines round the world and other strokes on internet and so. They are striking in a way but allow me take you through 5 Eye Catching
Haircuts ideas for African American girls
that have taken girls at ransom, that I fill you shouldn't miss have talk about. Some of these girls pull pixie haircuts and dress hair with bangs, others display trendy haircuts with on bob and signs marked at bottom, or others love short relaxed hair on loose waves and styles on bob and equivalent styles while some girls fall for inverted short bob haircuts and others love it moderate short on fine hair to met each of their expectations. By the end of this all story you find yourself falling for one of the haircut even though you have been fun of other trendy shots. 1.
Eye catching haircut ideas for African American girls-oval face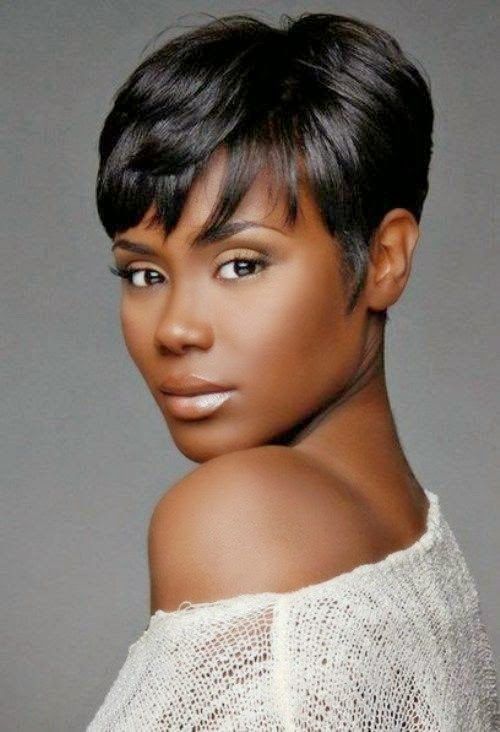 Source: 
Short hair is cherished buy African American girls and women but the difference between the two is styles each pull according to age. this is one of the haircut ideas any African American girl would love to wear, because it takes few hours to make , has more options of designs to pull and can either be done on your natural hair. If you're afraid of trimming short your natural hair, you apply short weave, or wig to style hair on trendy strokes to keep hot girly look. Always put in mind that eye catching haircut ideas match with trendy attires to command class. The haircut worn by African American girl is just amazing; this girl has permed natural hair. It's then trimmed on different lengths to make it sounding. On the hair at sides is kept on small volumes while at back of neck it's kept super short. So the whole style focuses on how you shape it at most front. This girl trimmed hair from mid top coming forward with length to almost touch eyebrows. However from mid top of hair up to upper back of neck to add length compared to hair on the sides. Because it gives hair better shape as you push it on the sides and towards the back. at front part of hair you part hair on sides to pull bob shape. While making forward top hair is little bit short then hair at bottom is pushed extreme leaving almost an inch to her eyebrows. While hair is parted on side at front, you push two hairs between parted hairs at front with pointed tips. One touches the left eyebrow whole the other that follows is kept above eyebrows. Further you leave out hair with length from the start of ears going towards the bottom. But if your natural hair can't allow this alternative you add a n extension when it's facing down. While hair on the right and left hand sides you make it facing backward. If you want to make a different style on this particular hair you can make it looking up to have a messy look.
Determine your face Shape:
This cute babe with an eye catching haircut ideal has an oval face shape, and to make this hairstyle interesting on every face shape of any African American girl it looks awesome.
Which Hair product to apply?
Use Mizani Rose H2O Conditioning Hair dress Unisex Moisturizer, 8 Ounce: because it's formulated with best natural oils that restore fast lost moisture from your hair. It also keeps hair smooth and lock in lasting sheen for healthy looking hair.
Which styling tools apply?
This haircut is permed, first you trim your hair using scissors because it allows you to level hair perfect than machine. With the help of tail comb you part few volume of hair and hold it between your fingers then proceed with a trim. Trimming hair should be should be done on already relaxed hair. Next step here is to have your hair shampooed to keep it extra tidy. You can either use Luke warm water or cold water when shampooing your hair. After wash you dry hair with cotton towel to absorb most waters leaving out few waters. Add setting lotion and apply big bristled comb as you push hair from front going backwards. Add rollers on to your hair to hold hair as you dry it in most convenient way. After this step you put off rollers, add hair product on scalp on few volumes and on top of hair. Finally apply small bristled comb to make your hair. You can as well add holding spray for strong hold. 2.
Eye catching haircut ideas for African American girls-arithmetic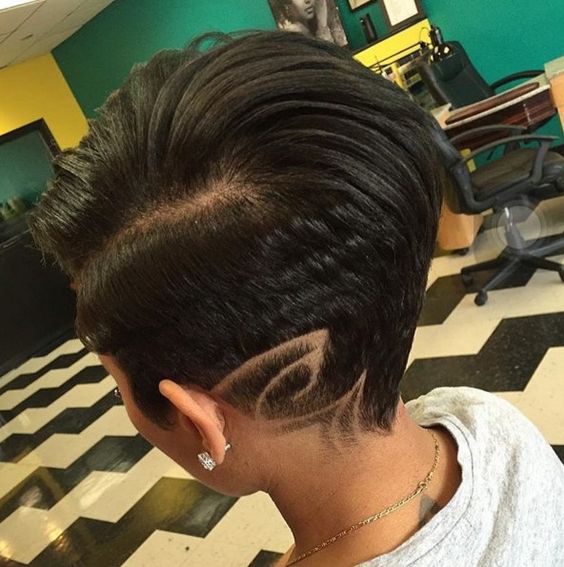 Source: 
This haircut looks so amazing, as in its trimmed on bob shape but one of the sides hair is trimmed long, while at back of neck hair is trimmed extreme short. So on the opposite starting at top hair is kept with volume and more length. And below hair is trimmed on few volume and length. However on this exact side behind ears hair is created with beautiful sign as you check in the pictorial above. And at end of day this haircut will take you an extra mile the way it shows up on your face. It's trendy, easy to make and gives you charming looks to make heads turn round you. Part of hair at front right hand side is pushed forward to give this haircut nice shape. For very short hair to pull curls you apply curling tool and remember to use less heat to avoid wearying your hair out. This kind of haircut is mostly worn by celebrities, top models and those African American girls that fall to have rear haircuts to be spotted among others.
Determine your face Shape:
this haircut looks adorable to African American girls of any face shape and skin tone. So don't hesitate trying it on when you're still youth, because this is part of your journey that you will tell to your grand kids.
Which Hair product to apply?
MANE N TAIL HAIR DRESSING 5.5 OZ because it keeps moisture round your hair, adds luster and conditions it for a healthy look.
Which styling tools apply?
You need in place pair of small scissors to trim hair on varying lengths as you check in the background. With the help of small bristled comb with a tail, you part off small volumes of hair to trim, section by section until your entire hair is done. Likewise for section of hair that sign is drawn you apply machine to perfect it. You proceed with hair wash and dry it using towel to reduce amounts of water with in your hair. Use curling tool to make your hair and when you're half way this process you add hair product on scalp and few volumes on top. Last style hair using tong comb which has alternative bristles either side to pull waves, curls or normal hair. Or use any comb that is available to make your hair perfect 3.
Eye catching haircut ideas for African American girls- relaxed hair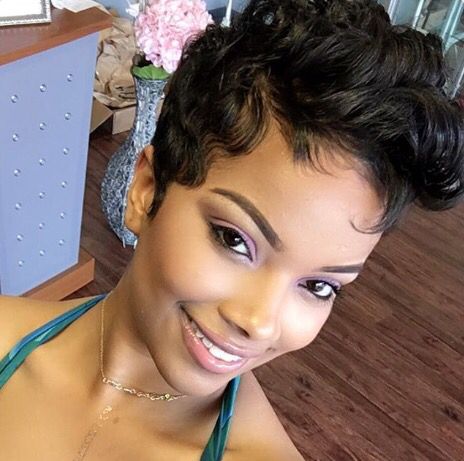 Source: 
look hot African American babes when you choose to relax your natural hair for purposes of making soft , having that silky touch of texture and keep it looking natural. The African American girl up front picked best alternate of trimming hair on the sides on low volume and length, while hair at the back is trimmed very shape for the haircut to have nice shape. So in the middle top of hair more volume and length is reserved. So to make this haircut outstanding you pull it with waves and for sure toy will show up looking hot. Push few hairs at front towards your forehead to curve tips to add value to on your haircut thus looking outstanding too. The way waves on this haircut are pulled is just full of art, on top waves on the middle look backwards and is pulled in rows. While front waves bounce on to the sides. So waves on the sides are pulled loose at start and as you complete they are pulled tight while at the back of neck they're micro and one rests on another.
Determine your face Shape:
the African American girl in the background has an oval face shape, on top of having a nice haircut she has beautiful skin that has no blemishes whatsoever. She added perfect makeup that matched exact on her skin tone and above all the length and size of eye brow she added and eye liner she added on to her eyes all together gave her a sexy look. Am telling you no matter the shape of your face you have with this haircut it will look ok. Just take the initiative of wearing it any time from now.
Which Hair product to apply?
Argan Oil Hair Mask, 8 oz, penetrates deep through scalp and hair to condition it leaving smooth, working on overall texture of hair to give your hair a healthy look. Since it constitutes rich natural oils it manages to balance your hair on its' original beauty.
Which styling tools apply?
First you have to tell the texture of your natural hair, if it's soft its applied on less powerful relaxer and for hard texture apply powerful relaxer to make your hair perfect. Remember only hair with growth is added with relaxer to stretch it. Shampoo your hair to wash off relaxer off your hair and scalp. Apply setting lotion on to your hair and using small bristled comb with tail part off small volumes of hair to add with rollers until your entire hair is done. After drying hair get rollers off your hair, add hair product on scalp. Keep some product round your thumb and rub gently then message on top of hair. Use small bristled comb to push waves as shown in the background. Apply tail of this comb to push some hairs towards your forehead for hot style haircut. 4.
Eye catching haircut ideas for African American girls- inverted Bob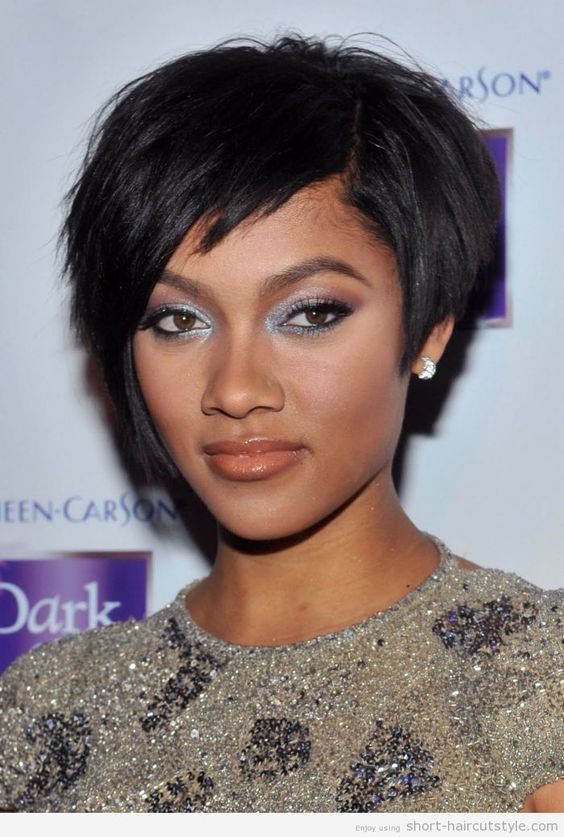 Source: 
Check how this African American girl made statement with Inverted Bob haircut, the styling of this haircut is so professional because as hair part on the left its cut with sharp edge up to ear length. While hair that parts on to the right is trimmed on almost three levels. At start from the line that separate between both sides is trimmed above right eyebrow and rests there looking forward. At bottom some hair is trimmed to eye length going towards the right and below this section some hairs is trimmed leaving few inches to the chin. Thus this haircut is made in style, it secures bangs and look hot o everyone that wears it. so behind this visible section of hair on the right ,the rest of hair is trimmed up to ear length and goes on to shape behind ears and at the back of neck it's trimmed long from top up to mid back of neck then kept very short as you proceed towards the bottom. This haircut speaks for itself, you either fall for it or think otherwise, but if it were me I wouldn't do without it as girl who wants' to maintain standards.
Determine your face Shape:
the African American girl in the background wearing inverted Bob haircut has heart face shape; on she added wearing shapely eyebrow and adding colorful eyeliner that reflects one of colors on her attire. Surely if you have different face shape and you have picked interest on this haircut don't be afraid, this haircut will work for you perfect. The moment you grasp to trim it perfect for this exact shape to come out nothing will stop you from picking the whole show.
Which Hair product to apply?
Jojoba Oil because it's in position to keep your hair fairly moisturized, locking in sheen and in position to lock in Vitamin E to make your hair strong. All this is supported because it's formulated from best extracts like castor oil, coconut oil and soy bean that are rich in these values.
Which styling tools apply?
Have handy pair of scissors to level different lengths of this haircut, have handy pair of scissors and small bristled comb to pick small volumes of hair for trim. have with you shampoo to rinse your hair and after drying hair applying appropriate comb that is able to pull hair straight with little art of waves. 5.
Eye catching haircut ideas for African American girls-fine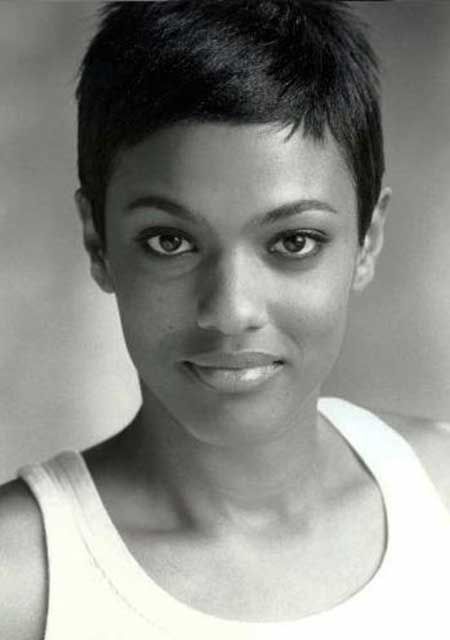 Source: 
Look beautiful with fine natural hair that is trimmed into an ideal haircut African American girls of this era cherish most. It's so comfortable to wear and easy to make because within seconds you're done. However to make it pretty good you add relaxer to make it smooth. So it's easy to style hair with various options without hassle. Such haircut allows your looks to be like baby, so you keep that young look that makes you attractive. Look how adorable this haircut can take you to great heights" the bottom part of this haircut hair is trimmed super short going round your head. So the upper parts of hair is kept with volume and mostly at front .when making this hairstyle you kind of push hair on mid top from left towards the right. While at the back of this top part you part hair on sides according to location. at fore front you push few hairs on the left top towards your forehead with end tail of comb to make your haircut look amazing.
Determine your face Shape:
the African American babe in the background wearing eye catching haircut ideas on fine hair has long face shape. With no doubt if any African American girl out there with another face shape falls for this haircut and tries it out will definitely make it. So only time and resources on your side will determine when you will try it on.
Which Hair product to apply?
Mizani Rose H2O Conditioning Hair dress Unisex Moisturizer, 8 Ounce: because it's dependable when it comes to restoring moisture quick, even when you shampoo your natural hair and dry it moisture disappears. Upon applying this product straight after drying your hair it will regain moisture on time. It keeps hair soft to thus easy to style more than one option and helps to put of dry scalp, so your hair will maintain healthy look always.
Which styling tools apply?
This haircut is pulled on permed hair. First you do trim your natural hair on commendable length then add relaxer to make it soft. You apply rollers on your hair when you're drying it. Off course you use small bristled comb with tail to part small volumes of hair to apply on rollers. When hair is dry you get rollers off your hair and add hair product on both scalp and entire hair. Proceed with styling hair using an appropriate comb that makes this haircut perfect. As you relax hair you find that some hairs will go through so use small pair of scissors to level your haircut. Last use hairspray for this haircut to lock in lasting sheen and for strong hold.