5 Short Thick Wavy Haircuts African American
A lot has been spoken about short haircuts that drive African American women crazy and one of these haircuts is short Thick Wavy
Haircut African American
, allow me express my views about this particular haircut because it makes statement to whoever pulls it. I have looked around the globe for best short wavy haircuts African American woman wear for different purposes and what has gathered is that in whatever style one tries it looks superb. I have seen women pull this haircut for weddings, formal purposes on natural color or colored to suit each individual targets. However some African American women pull it on natural hair or weave as per individual targets and each of the two looks great, so scroll down this article to view more than one haircuts because at the end if day one might capture your heart. 1.
Short Thick wavy haircut African American at 30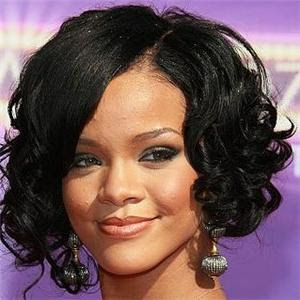 Source:
Rihanna as usual has always inspired us on trendy haircuts and for sure she looks wonderful, in case you're one of African American women of this era that falls for Rihanna haircuts this particular haircut before you works out for you, you can wear it for formal, great causal outings and very special moments in your life. However her haircut is medium short and pulled on relaxed hair. She wore short thick wavy haircut Bob style by parting hair on sides between top left side and some hairs is pulled straight especially towards the right side of forehead to pull bangs. What makes this hairstyle great is that on few areas hair is pulled straight then the rest of hair on sides and at the back of neck is pulled on tight curls. For best looking haircut like Rihanna's one has to have steam with the necessary hair product that blends with the texture of her hair to penetrate deep through hair follicles and stimulate hair growth finally giving your hair better results. Then after shampooing your hair, set it with tiny rollers for purposes of holding tight curls other than using curling tool to achieve the same results.
Determine your face Shape:
Rihanna short thick wavy haircut is pulled on oval face shape, however it looks great on heart face shape, round face shape, long face shape, square face shape, oblong face shape and many others you can tell.
Hair product to apply:
Use Mizani Rose H2O Conditioning Hairdress Unisex Moisturizer, 8 Ounce: to add moisture to already existing natural oils to make your hair silky smooth, healthy looking and moisturized.
Which styling tools apply?
First you trim your hair to medium short length , then after steaming your hair you wash off the product and add setting lotion to your hair when it 's still wet using small rollers up to when entire hair is done. When hair is dry you don't need to comb it but instead apply hair product on each hair as you pull it from roots up to end tip then using your fingers you place it in position up to when your entire hair is done. Only at the front part of hair where hair parts to sides you push some hairs straight using small comb with normal bristles. 2.
Short Thick wavy haircut African American wedding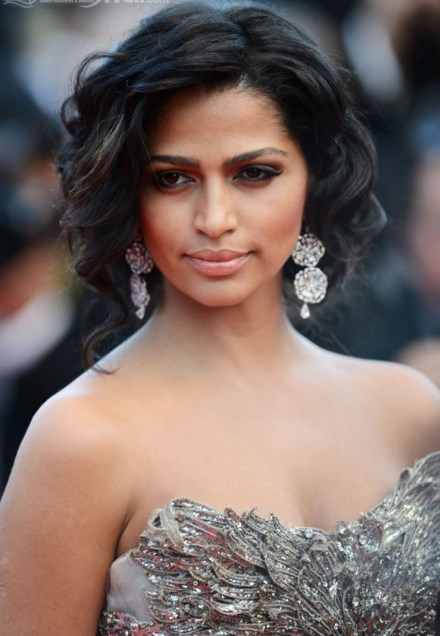 Source: 
Another option of wearing short thick wavy haircut wedding on slated special day in life, here is un opportunity to explore mush as your natural hair is long its pulled short with big waves to match the big day. Hair is pinned in few areas to fix it in position however few ends can be left out to hang around shoulders just to make your hair look stylish. in case you're bride that want to maintain natural look and hair by applying simple accessories to complete your day this haircut works out for you. now here we go this hair in the pictorial is relaxed, so its shampooed with natural extracted shampoo's to provide nutrients to your hair for best looks, go ahead and have steam to improve the texture of your hair then set hair on bigger rollers for sake of pulling big waves on your hair at the same time making hair take little time to dry.
Determine your face Shape:
The short thick wavy haircut African American wedding is pulled on oval face shape, however if you're bride to be and fall for this haircut on different face shape have no doubts because this haircut will work for your better.
Hair product to apply:
Apply Design Essential Stimulations Super Moisturizing Conditioner 6 Oz: because it conditions your hair to make it soft, leave a pleasant scent around your hair, nourishes your scalp and makes your hair look healthier.
Which styling tools apply?
For nice looking treated hair it's a must one has to add steam hair with nutrient conditioners to make hair strong and with best texture. For this purpose no need to use curling tool to make hair wavy or curly the best way is to set hair on rollers to make it what you desire your hair to look like. Since this hair is thick and long yet it has to come out short you apply big rollers as you set if to dry then there after you use big normal bristled comb to pull it straight first then last apply small comb to push waves around your hair. Fix long hair pins where necessary to hold hair in position and last finish with hairspray to strong hold and lasting sheen. 3.
Short Thick wavy haircut African American pixie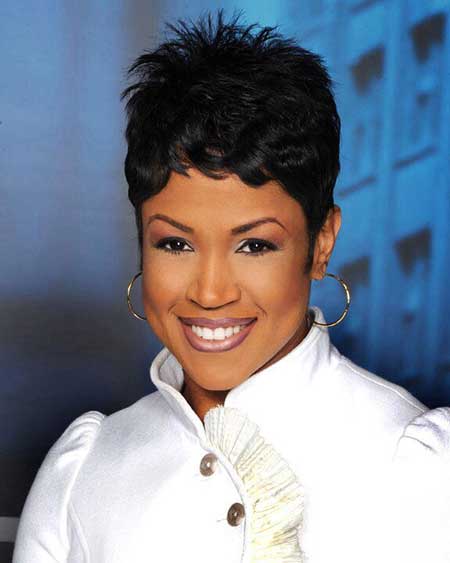 Source: 
Look cute above thirties with short thick wavy haircut African American Pixie when you apply natural black weave. Part of hair is pulled with waves especially from mid crown coming forward. From mid crown going towards the end of crown hair is made straight and standing still to add value to this haircut. At the back of neck and on sides hair is maintained on few volumes and at the back of neck. Am telling you what? If any African American woman from twenties to late forties this haircut makes you shine. It's light on head, bridges gap between frequent visits and tight schedules that almost leave you no time to attend to your hair, this haircut serves you best. Once you oil it right from the scalp and entire hair it will keep looking good for a period not exceeding 10 weeks.
Determine your face Shape:
This haircut is on top is pulled on long face shape, but what I want to assure any African American woman out there with another face shape is that this is no one haircut that looks best on all face shapes and skin complexions of all women regardless of age.
Hair product to apply:
On scalp use Sulfur-8 Original Hair & Scalp Conditioner 4oz; to conditioner scalp off dandruff and lubricate it then on top of hair apply Organic R/S Root Stimulator Olive Oil Sheen Spray, 11.7 Ounce to provide moisture and a shinny look always.
Which styling tools apply?
For this haircut to look fantastic, first you shower your natural hair and apply moderate heat to dry it. then pull your hair with cornrows then on top fix the short thick wavy haircut using knitting braid threads then when making your hair use tong comb in these ways; to pull waves turn on tong side bristles then when you want to pull some part of hair straight turn the other side with normal bristles and last to push hair up standing still especially from mid crown going backwards use the end tail of this comb because it usually has four big toothed bristles so apply it for better results. 4.
Short Thick wavy haircut African American Girls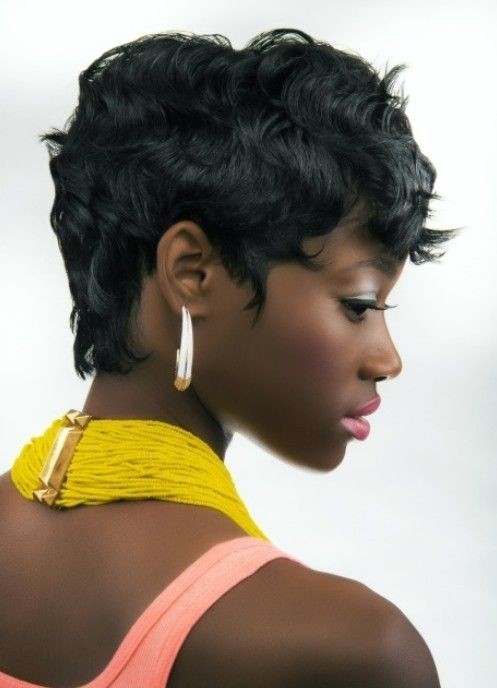 Source: 
Above short thick wavy haircut African American girls comes a short natural black weave that won't give you stress combing since it comes already wavy, so when you moisturize it your free to apply comb to make it or use your fingers to put it to order and look that stunning. So as it has always been , your natural hair is pulled with cornrows then on top you fix the weave on , at the back of neck you fix weave on few volumes then at sides from the front view you fix it with volume up to around ears and from this point going towards the back you fix weave on few volumes then last from back part of crown you fix weave with more volume then before few inches before forehead you somehow make hair slangy towards forehead to pull bangs for that sexy look you see in the back ground.
Determine your face Shape:
The haircut right before you worn by African American girl is pulled on round face shape, but whatsoever no doubt that can conquer you that when you pull this exact haircut on another face shape that you will receive negative results. Expect compliments to follow you in return.
Hair product to apply:
Use Bobos Remi Wig & Weave Detangle Spray to make your hair frizz free, add moisture and to remove tangles.
Which styling tools apply?
Nothing much should bother you once you pull your natural hair with cornrows using knitting braid threads then using the same material fix the weave on top and last after adding hairspray on to your hair on first day apply necessary comb to maintain waves then next time you make your hair either use a comb or mere fingers to complete your hair. 5.
Short Thick Blonde wavy haircut African American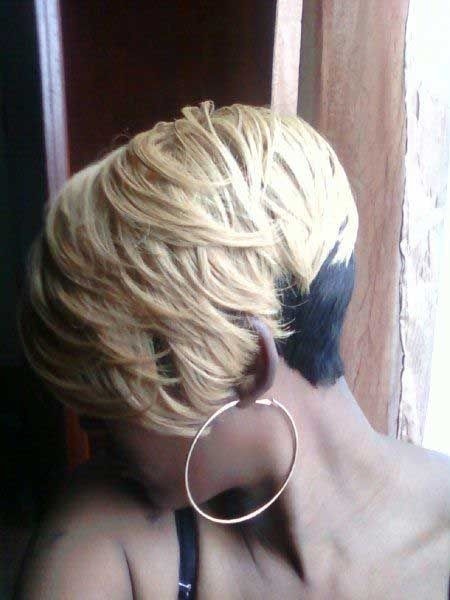 Source:
look colorful African American women with short thick blonde wavy haircut that is pulled with waves on one of the side then the rest of hair on the opposite side is pulled straight. At the back of neck the upper part that measures from top back up to around ears hair is pulled wavy too then as you proceed towards the neck you fix natural black hair calm the brightness of weaves. This weave comes already colored so after pulling cornrows on your natural hair you then join the weave on top using the same procedure mentioned on previous articles. Add spray to your hair to tame dull and dry hair into silky smooth hair then use appropriate comb to work it out.
Determine your face Shape:
Since it seems quite hard to tell which face shape this haircut is worn, my resolution is that this haircut looks wonderful on all African American women face shapes.
Hair product to apply:
Use African Essence Weave Spray 6 IN 1 to deeply condition your hair because it works perfect on both synthetic and human hair to eliminate dryness thus leaving your hair manageable and silk smooth.
Which styling tools apply?
Pull your natural hair with sea gull brand knitting threads on natural black then using the same material join weave on top of cornrows then last apply necessary comb to make your hair as shown in the background.