5 Wedding Hairstyles On Cornrows You Must Try Black
You don't need to bother much on hairstyle that you can wear as a
bride
, they're trendy styles black brides can wear which are easy to make yet look outstanding like cornrows. Cornrows look great in all ways you can either wear them on color, natural hair or with braid fibers.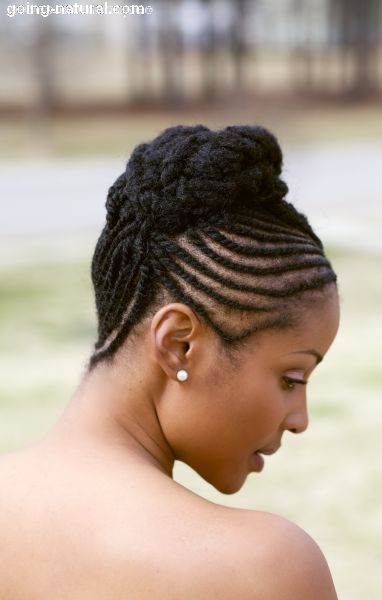 They're trendy styles have put together in this article that some black brides pulled as up do, on mini puff, cornrows with twist back up do and great looking long natural hair that is twisted from back of neck going round to complete at front into a great style. For sure when you take look at these pic's you find yourself falling for any style you must try this era. 1.
Colored wedding cornrows you must try black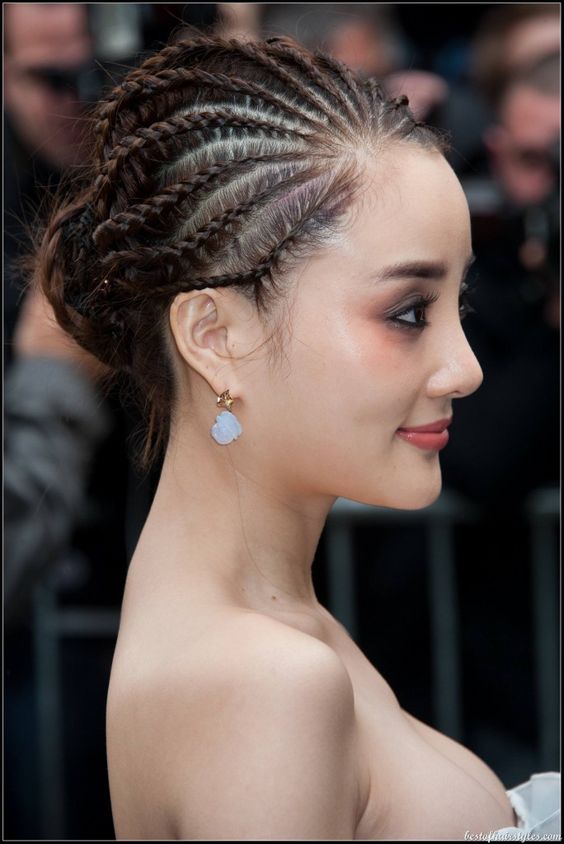 Source: 
Check with the bride in the background, she looked great with colored cornrows which she made starting at front pointing at sides and the section in the middle looking backwards. So all hair is put together at back of neck and pulled into one cornrow. So you turn this exact cornrow round this point and join it using weaving threads and needle to pull mini puff. This hairstyle takes one hour or less and will take you for three weeks. As this hairstyle takes less time to make even it consumes less than two fibers to complete it. So it's economical and time saving yet blends perfect with your occasion.
Determine your face Shape:
the bride on the pictorial on top is wearing colored cornrows with mini puff on an oval face shape. Should be open to you and Speke to you that this is one of the hairstyles women of all face shapes wear and look wonderful.
Hair product to apply:
Use Marrakesh Oil Hair Styling elixir 2 oz to make hair smooth, make hair frizz free and lock in lasting sheen.
Which styling tools apply?
Apply colored smooth fiber to make cornrows which is started small at front but goes on increasing volume towards the end. To hold puff in position you apply weaving threads and needle through several rounds to make it make it firm. 2.
Wedding cornrows with up do you must try black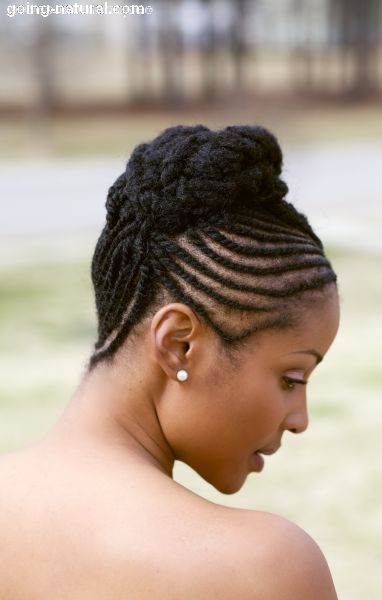 Source:
Stylishly here is another trendy cornrow you must try on your wedding that is pulled on kinky fibers because it's rough to hold tight your hair for long. It doesn't easily come out like any other black brands. So the black bride in the image on top styled cornrows at front on curves from the left towards the right and completing it towards the crown. Cornrows from the back of neck are drawn from bottom towards the crown too then hair on the left is made towards the top as normal cornrows then all hair is put together. You apply kinky fiber with small volumes of your hair to pull cornrows. You then put all hair together into big cornrows by dividing it into manageable sections. Last you style it onto an up do then use weaving needle with weaving threads to make it tight.
Determine your face Shape:
The black babe wearing cornrows with up do has round face shape , on other face shapes of black women out there this hairstyle looks fabulous on you. Just give it a try and will be complimented.
Hair product to apply:
Use Sulfur8 Loc Twist & Braid Butter 4 OZ for keeping hair moisturized, smooth and lock in shinny look.
Which styling tools apply?
Use big bristled comb to push off tangles from your hair, have in place like three packs of kinky fibers featuring natural black to make hair. Have with you small bristled comb with sharp tail to help you pick small volume of hair and mark areas to draw cornrows. Last if you have handy weaving needle and threads pass it through the up do to make it intact. 3.
Wedding twist cornrows you must try black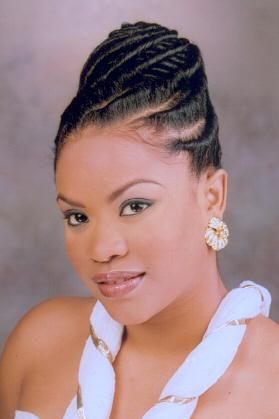 Source: 
Look beautiful on your wedding with twist cornrows that is made in rows and all collect round the crown on high volume to pull a trendy style. This hairstyle is worn on relaxed medium length hair and the difference this hairstyle has from the rest is that you don't need to add fiber to make it. Once your natural hair is shampooed and combed straight to dry, to make it from bottom coming towards the top. You pick medium volumes of hair and on top add with small pieces of weaving threads to push each cornrow off forehead coming towards the crown. Repeat this process until all hair is done then a line it as shown in the background then weave through tips using threads and weaving needle. Complete hair with hairspray to keep it moisturized and original.
Determine your face Shape:
The bride featuring on top is wearing twist cornrows on long face shape. She matched her looks with short floral earrings and gown with big twisted straps to make it stylish. I love the way she shaped her eyebrows it's curvy and long. She added few color on her eyebrows and on top of eye she added colorful eyeliner to make her eyes sexy. This hairstyle gives you the best of best view from all angles once all hair is gathered on top.
Hair product to apply:
Apply Jojoba Oil because this product is rich in natural extracts from coconut oil, castor oil and soy bean that to distribute moisture round hair evenly , lock in lasting sheen and also provide vitamin E that will make your hair strong.
Which styling tools apply?
Once your hair is combed straight you will need in place weaving threads to put hair together on top of every cornrow then when you're putting all hair at the crown together you need to use weaving needle and threads. 4.
Wedding side cornrows at back with twist black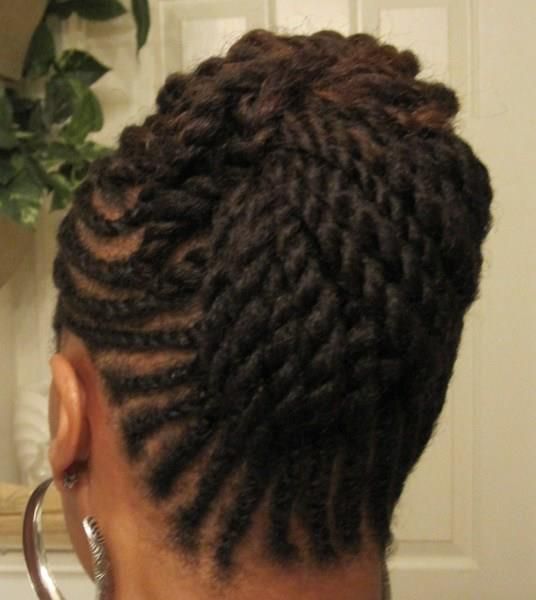 Source: 
This bride in the background applied long fibers to make hair, and from bottom coming towards the crown medium size cornrows are drawn then as each cornrow is finished hair is twisted up to the last tip. Cornrows are pulled from all directions towards the center top of hair; from back of neck it looks normal while at the front it's pulled in zig- zag style to make it look fashionable. So at bottom of hair at crown you tie hair together using weaving threads. When you add long fiber with your natural hair to make cornrows you complete twists are long to touch your shoulders. So you fold it few inches from bottom back of neck almost ear length then push tips forward on top of cornrows at the front then put it together by weaving it through.
Determine your face Shape:
The black women wearing side cornrows on back twist is pulled on all face shapes. According to your preferred length of earrings you love to add on gown check whether medium, short or long earring match your gown for better looks.
Hair product to apply
: Use bees wax to apply on to your hair because it will keep your scalp and hair moisturized and make it look healthy.
Which styling tools apply?
You will apply the same fiber to make your hair half cornrows and complete it as long twist that touches your shoulders. You will need small bristled comb to part off volumes of hair to make your hair, mean while the rest of hair is held together with hair band or sharp comb that crosses through to keep in position. of course you will need weaving needle and threads to join hair together. 5.
Wedding big cornrows twisted round you must try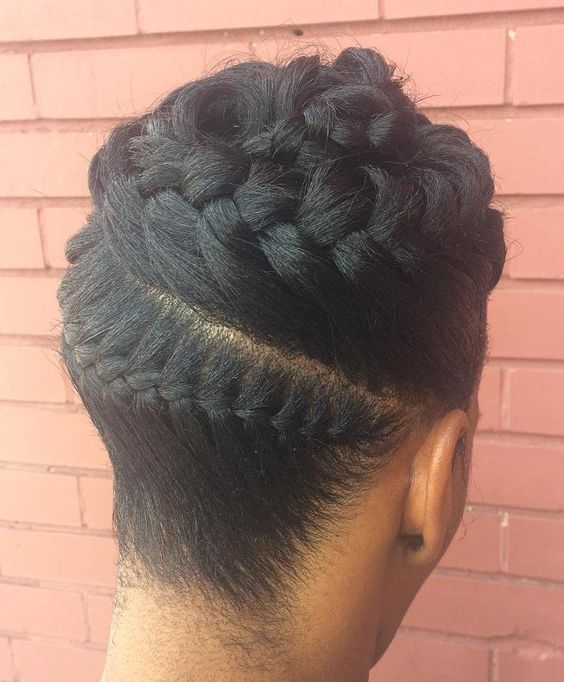 Source: 
Let natural hair do you wonders when you grow it with more length then you twist two big cornrows going round your head. You start it from one of the side towards ears pushing hair to opposite top side. So you then draw another big cornrow from right top side too pushing it towards the left to join it to the previous at ends. So part of your hair at the front is done with waves as in pulling hair off her forehead pushing it inward. In between these two sections if hair a line is draw in the middle to separate both sections. Before pulling cornrows on your natural hair, first you have to stretch it and to make it smooth or manageable , you can hot comb hair after through rinsing then you add small volumes of hair product to while you hot comb hair on final steps thus hair will become smooth thus easy to make any design.
Determine your face Shape:
this hairstyle looks great most on oval face shape, long face shape or rather with women of long jaws however is worn on round face shape or heart face shape you too look awesome.
Hair product to apply:
Use Mizani Rose H2O Conditioning Hair dress Unisex Moisturizer, 8 Ounce, which is rich in natural oils to maintain your hair looking healthy, well moisturized as well as locking in sheen.
Which styling tools apply?
Originally you wash clean you natural hair with shampoo to remove any sited dirt on scalp and entire hair, usually cold water is recommended because it reserves natural oils round your scalp to keep your hair looking beautiful. Once it connects with hair product you add on your hair to moisturize your hair to healthy look. You then hit comb it on low heat until your hair becomes smooth thereafter you pull cornrows in the style shown above in the background. Last you add hairspray for strong hold and lasting sheen.