5 Tremendous Natural Wavy Wedding Hairstyles For Black Women
Black women grow natural hair on different lengths mostly on two categories, others women keep their natural hair short with curls or maintain it straight then on the sides they fix floral hair accessories to make hair look colorful while other black women grow natural hair with more length and quite voluminous to pull waves or rather push it straight with interesting designs. In this article I have put together 5 tremendous natural wavy
wedding hairstyles for black women
, that will turn you on after viewing because each of these women pulled a different hair design but on same truck to give wide knowledge of how to go with this hairstyle in more than one style. 1.
Natural Wavy side Bun wedding hairstyle for black women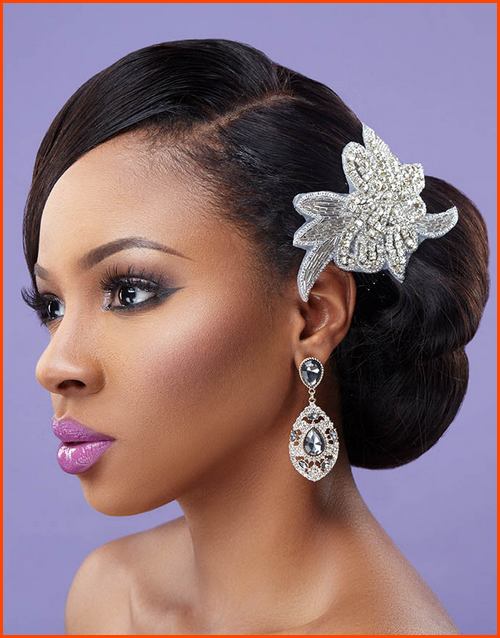 Source:
Now this bride up has long natural hair and on her wedding day she decided to pull part of her hair straight with bangs mostly at the front right hand side, so as she parted hair on the right and left starting at top left a line was drawn in between as hair is pushed straight up to around ears on the left then as hair parts on the right at the beginning a big push is secured too then as you complete hair at tips hair is completed looking straight. Then the rest of hairs from this point towards the end of line you make it going backwards and straight up to mid back. Since hair is long you then pull waves with hair below into a side bun then fix tiara on hairs around the left ear to complete your looks. This bride also wore same color earrings that match tiara at the end of day; she looked fabulous with gown too blended with same color to really look lovely for her spouse and guests.
Determine your face Shape:
The bride wearing this haircut is oval face shape, looked wonderful on her wedding by shading bold long eyebrow, on top of applying make up that keeps her looking natural she also added purple lip gloss, added wanja around her eyes and interestingly she brushed her eye lashes up for a hot look.
Hair product to apply:
Use Mizani Rose H2O Conditioning Hair dress Unisex Moisturizer, 8 Ounce: since it's formulated from rich natural oils to tame dull hair and scalp into soft, evenly moisturized hair with a silky sheen.
Which styling tools apply?
When styling this hair of course you will need small comb of normal bristles with tail to make your hair but before you will have to wash hair off dirt with shampoo, add setting lotion when hair has few waters then set if with rollers to dry because hair becomes manageable to pull any style. You will have hand black sea gull threads to help tie round hair on the sides before completing it as side bun. 2.
Tremendous Natural side wavy hairstyle for black women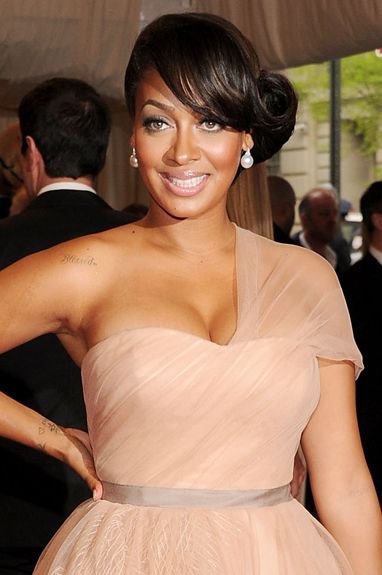 Source: 
Look how spectacular black woman on top among the guests wearing brown one shoulder outfit that looked amazing on her body. This hairstyle can be worn as guest or bride so long as you feel comfortable with it. Her natural hair is extreme long so hair on the right hand side is pushed towards the back of neck and end rolled up to the last tip then fixed with long black pins which are invisible. So hair at the top is partly pushed towards the left side then from mid center coming forward hair is pushed towards forehead to pull bangs. So after securing bangs tips are pushed towards the left hand side to join hair into one then using a curling tool hair is rolled looking inward with waves then fixed with hair pins to stay still. There after you add hairspray to keep hair looking shinny and moisturized.
Determine your face Shape:
The wedding hairstyle on top is pulled on heart face shape of African American between thirties and forties. If you ever wear decent hairstyle like the one in the pictorial then make sure you also put on decent outfits and shoes for you to keep on track. however if you're hold a different face shape and you're between 20' to 40's and fall for this hairstyle am assuring you that you will look perfect what matters most is the hairstylist you're using to make your hair look really standout.
Hair product to apply:
Use castor oil hair product on to hair to make your hair smooth, to add with moisture and lastly looking healthy.
Which styling tools apply?
To make this hairstyle look this unique first you have to have long natural hair and if this is not possible this means you're going to apply human hair long weave to make your hair. In case you have applied human hair weave, you will pull cornrows on your natural hair then add weave on top. since hair on the right hand side is pushed back wards you have to leave out few hairs out to cover weave thus you have to apply leave -in lotion to it the apply it on rollers to dry. Fix weave on top of hair then trim it at front when pulling bangs and lastly as you complete hair on the left hand side apply curling tool to roll over this hair then secure it with black long pins to make it intact. 3.
Tremendous Natural wavy wedding hairstyles oval face black women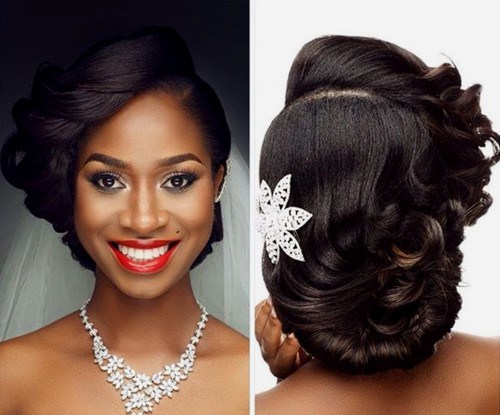 Source: 
Look great on your wedding day with natural hair full of waves and pushed to one of the side to look stunning. Hair is parted from top right hand side falling on both sides leaving a line visible, so hair on the left hand is pushed straight going towards mid back of neck then continued with waves up to shoulders. Surely hair is maintained looking straight partly from mid crown up to center back then waves proceed on. Hair is collected from all sides and pinned in the middle and reserved in position using long black hair pins. Now starting at top front part of hair going towards the right hair is pushed on big waves one following the other going down the cheeks increasing on volume as it joins hair at the back with the rest of hair.
Determine your face Shape:
The African American lady right before you is wearing this hairstyle on oval face shape, but to be realistic this hairstyle looks great on all other face shapes of African American women within youth age up to the age of late forties.
Hair product to apply:
Apply Design Essential Stimulations Super Moisturizing Conditioner 6 Oz: to calms down waves, to condition scalp and entire hair leaving it smooth, manageable and locking in lasting sheen.
Which styling tools apply?
To style this hair perfect steam hair, add conditioner then set it on rollers to dry and last after hair has dried use a small comb with normal bristles to make hair to push part of hair straight and wavy respectively. Then fix tiara on left side round ears to complete your looks. 4.
Tremendous Natural wavy up do wedding hairstyle black women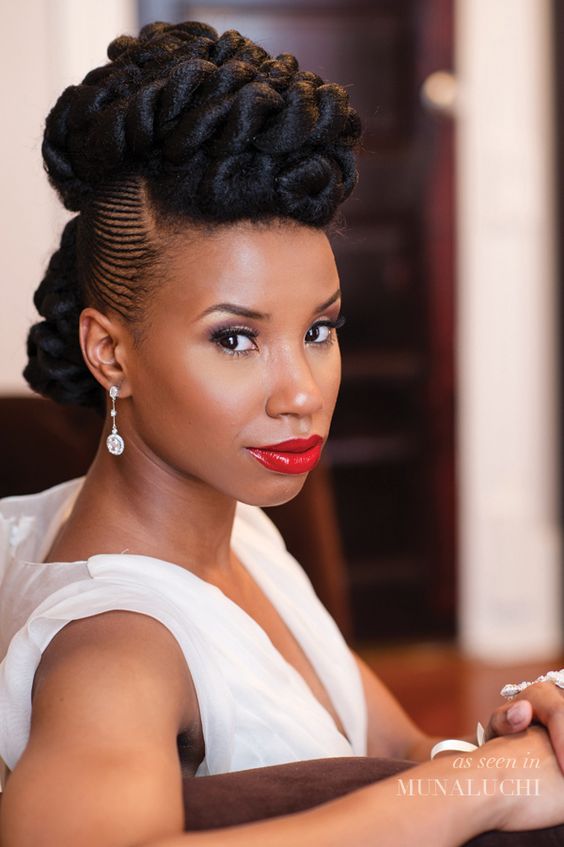 Source:
Here comes yet another natural wavy up do that any African American woman that falls for natural hair can pull wear and strike for her big day. hair on both sides is pulled with tiny cornrows up to end of sides then ends pulled into one cornrow then put together with hair at the back to pull waves. At the top part of area that's the area covering the crown coming towards the front of hair, pull small sections of hair and use a curling tool to add waves up to when entire area is done. Start from bottom of hair lying waves one next to other at the front going towards the back. Fix waves on top of each other going backwards but at mid point make waves with more volume and as you complete hair reduce volume to shape the bun. Get on the second section of hair to pull waves at the back of neck. Pull waves next to each other in a tail form towards neck length and fix hair with hair pins to make it in tack
Determine your face Shape:
This hairstyle is pulled on long face shape of African American woman in her forties, the best news I have for the rest of other women on different face shapes is that it look fabulous nothing else.
Hair product to apply:
Use Mizani Rose H2O Conditioning Hair dress Unisex Moisturizer, 8 Ounce: to keep your hair looking beautiful, with a silky sheen and even moisture distribution.
Which styling tools apply?
To make cornrows, add tiny black sea gull threads with your natural hair on the sides. For wavy hair first use a curling tool to create waves on your hair then fix it in position with pins and complete hair with hairspray for strong hold. 5.
Tremendous Natural Bangs wavy wedding for black women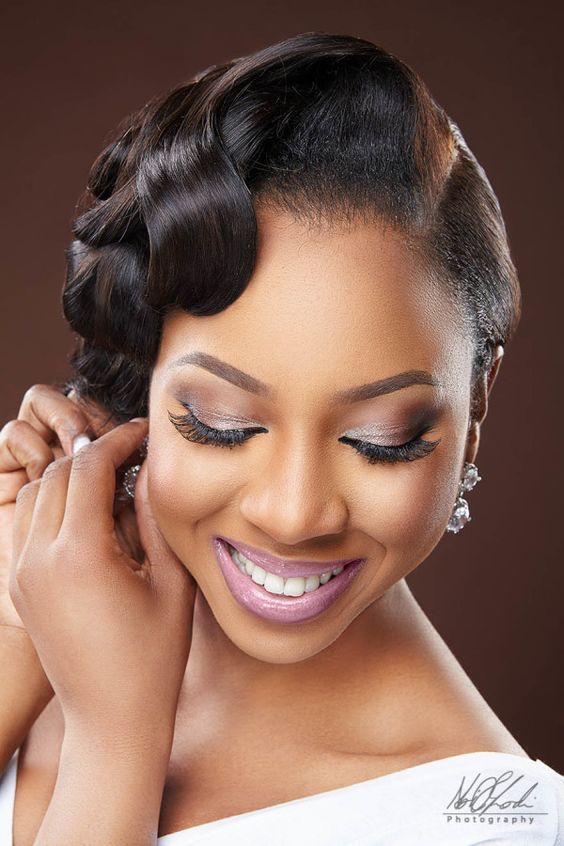 Source: 
look beautiful on your wedding with part of your natural hair showing partly then medium short weave added on top featuring black color with brown highlights on top to make your hair look outstanding. Part of your front hair especially on the left side and part of mid front natural hair is added with setting lotion after wash then set on rollers for purposes of making it manageable when combing and for strong hold. You pull your natural hair on cornrows from back of neck going round your head then leave out section of your natural hair two inches from forehead. Hair on the left is pulled towards the back of neck and end tips pushed inward. On the left hair is pulled wavy then towards the right front part some hairs are pushed long and wavy to secure bangs.
Determine your face Shape:
This hairstyle in the background is pulled on heart face shape of African American bride, if at all you're out there with another face shape and you fall for this hairstyle then don't hesitate to go for it because nothing will stop you from looking great with it.
Hair product to apply:
It's better to apply hairspray so let's apply Organic R/S Root Stimulator Olive Oil Sheen Spray, 11.7 Ounce; for all hair types to keep hair fully moisturized and maintain lasting sheen.
Which styling tools apply?
Use sea gull brand of threads to make cornrows or equivalent brand nearest to you then add weave on top and if you want to make bangs stiff use curling tool. Shape your eye brows perfect and shave off wild hair from your face.