5 Touching Fish Tail Wedding Hairstyles For Black Women
Black brides look up to striking on top with hairstyles that make statement when you take a look at it thus making them strive less with make up to add on their natural looks because even without it telling you they look stunning. Some of these Fish tail hairstyles I have shown in this article is featured on women putting on casual but it reflects as mirror to anyone looking for hairstyle that falls in the same category to be worn as a bride. They're five in number and I want to assure you that each of them strike on its own way so you're left with chance to scrutinize the best that settles your mind. 1.
Touching fish tail wedding medium hairstyle black women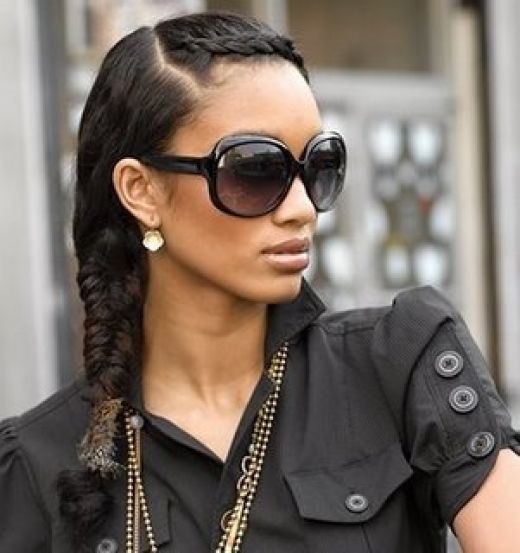 Source:
Imagine if you wore such a fish tail medium hairstyle on your wedding day? It doesn't need much time to make, it's simple to make as in once your natural hair is washed off buildup and dirt it becomes soft and clean. You can add conditioner on to your hair and skip steaming because it serves the same purpose. When hair is done with washing, use a cotton towel to reduce water with in your hair handling it gently to avoid straining hair from its roots. Use big toothed comb to make your hair that's from front part going towards the back of neck. Add on setting lotion to make hair manageable, pick small volumes of hair using small comb with normal bristles and comb it through to end tips then as you still hold hair up f ix piece of big roller hold hair as you roll it over up to scalp and fix holding pin across to hold it in position. Then apply the same process on to your entire hair then when you're done set your hair to dry in any convenient way among the two; you can either sit under drier or use hand drier but putting caution of volume of heat you use. When hair is dry put off rollers off your hair then apply hair product on scalp on small quantities and few amounts on top. Use big toothed comb to make your hair starting at front going towards the back of neck. Use end tail if small comb to divide hair into two sections, push some hair on the left hand side beside the line shouldn't exceed the crown. Then the rest of hair on the right should be pushed down the neck. So put together hair on the left side into one long cornrow following the contours of your face then when you reach at back of neck join it with hair on the right at back of ears to make a big fish tail that reach off shoulders. Few inches to complete hair fix hair accessory to hold hair so that it keeps intact. Finish with hairspray to keep your hair looking shinny and evenly moisturized.
Determine your face Shape:
The fish tail medium hairstyle wedding up front is pulled on an oval face shape of black woman with light skin tone, but my message goes to those black women out there with another face shape that this hairstyle has no particular techniques to should scare you out. So put it into your mind that it looks nice on your face shape too.
Hair product to apply:
Use Mizani Rose H2O Conditioning Hair dress Unisex Moisturizer, 8 Ounce, to maintain your hair looking healthy, added with required amounts of moisture thus leaving it silky soft.
Which styling tools apply?
After shampooing it, add hair with conditioner then apply rollers to your hair to make it manageable and last for sake of making hair strong when making cornrow add pieces of threads to make hair neat and looking perfect. Use any means that is most convenient to dry your hair and time should be a factor to consider too. 2.
Touching fish tail wedding fine hair black Women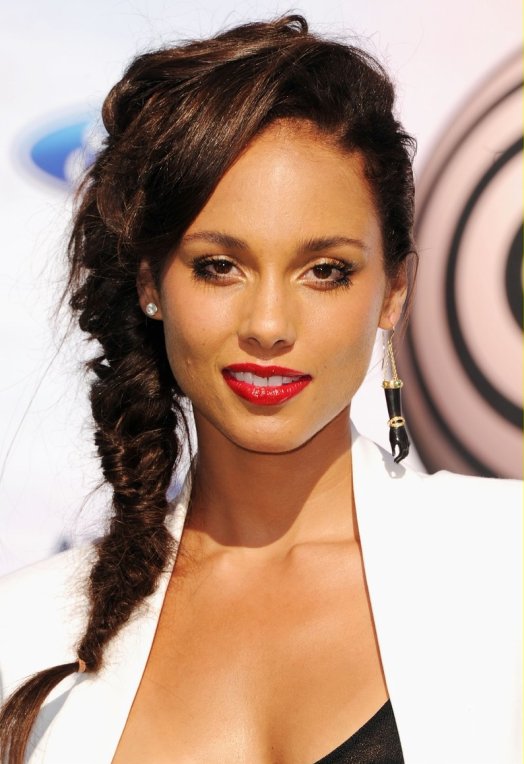 Source: 
No matter you have fine hair you can look cute with fish tail on your wedding and one of the ways to prove this cause Alicia Keys in the pictorial is here to back me. Of course she added long human hair extension to look exactly like her natural hair. Her hair is relaxed and it blends on both black color at bottom then brown color on top of hair. Before adding on weave on to your hair, first you have to make sure your hair is clean. dry it after washing and as I have stated it earlier to make hair smooth and manageable it's required to apply rollers on to your hair to lock in waves thus giving you more options to pull it in any choice of design you fall for? You will push part of your natural hair at the front towards the forehead to pull gangs towards the right hand side of your forehead. So pus some hairs on the left hand side towards the back and complete it at center of the right hand side. All the way though the left pix long hair pins to hold hair so push hairs at the crown with waves and last put together part of hair at the sides of the crown and join it with hair collected from the left around the back of ears into one big cornrow to come up with an elegant looking fishtail. Leave part of tail free mostly towards the end and in between fix rubber band round to make hair tight.
Determine your face Shape:
Alicia Keys is wearing fish tail wedding fine black women on long face shape , but to be sincere this hairstyle looks stunning to any face shape of black woman who fall for it?
Hair product to apply:
Use Design Essential Stimulations Super Moisturizing Conditioner 6 Oz, to tame dull hair into smooth looking hair and easy to comb then on top of entire hair use Organic R/S Root Stimulator Olive Oil Sheen Spray, 11.7 Ounce; to stop hair from drying but rather lock in lasting sheen.
Which styling tools apply?
You will apply hair pins to hold hair on areas when its pushed straight , apply small comb to secure bangs and part of hair at the crown wavy then use a rubber band to hold hair few inches towards the tips. 3.
Touching Colored Fish tail wedding hairstyle black women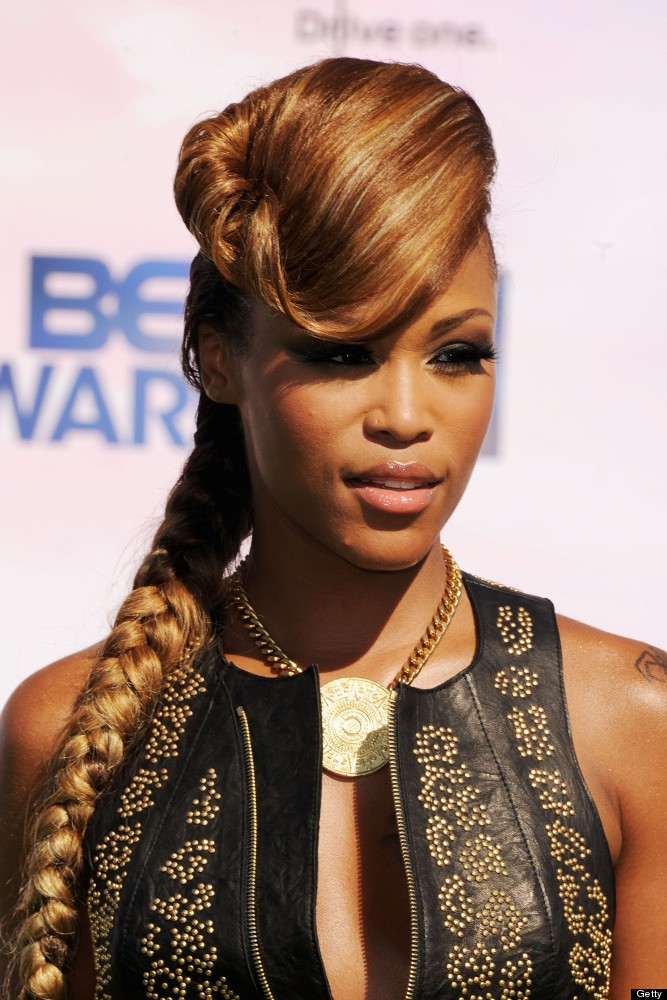 Source:
Look great as a bride when you add colored weave around top middle part of your hair then the rest of hairs collected at the back of neck to join with colored long hair extension too to pull an elegant fish tail hairstyle that will leave every head turn. So around the crown hair is pulled with cornrows because it makes it easier for you to fix weave on top of using threads and weaving needle. The weave to apply should be featuring on two colors that are dark and light brown colors its nature is straight but at the tips you push it with waves looking inward. So hair on both sides is pushed towards the back of neck so you join hair together into one by adding long hair extension featuring on the same colors and it's made long up to bust length resting on one of the sides.
Determine your face Shape:
The colored fish tail before you is pulled on long face shape, it's not a guarantee that this hairstyle on works best on this face shape but the truth of the matter is that this hairstyle works perfect on all other face shapes of black women out there.
Hair product to apply:
On natural hair use Argan Oil Hair Mask, 8 oz, to keep your hair with lasting moisture thus make it look lively and on top of weave and weave use Organic R/S Root Stimulator Olive Oil Sheen Spray, 11.7 Ounce; to keep hair evenly moisturized and retain healthy look at last.
Which styling tools apply?
You should have colored weave handy, then long hair extension colored too to fix at the back of neck. Use braiding threads to make cornrows around the crown and weaving needle to join cornrows with weave. Lastly join extension with natural hair at back of neck then at the tips fix rubbers band to hold hair. 4.
Touching loose fish tail wedding hair black women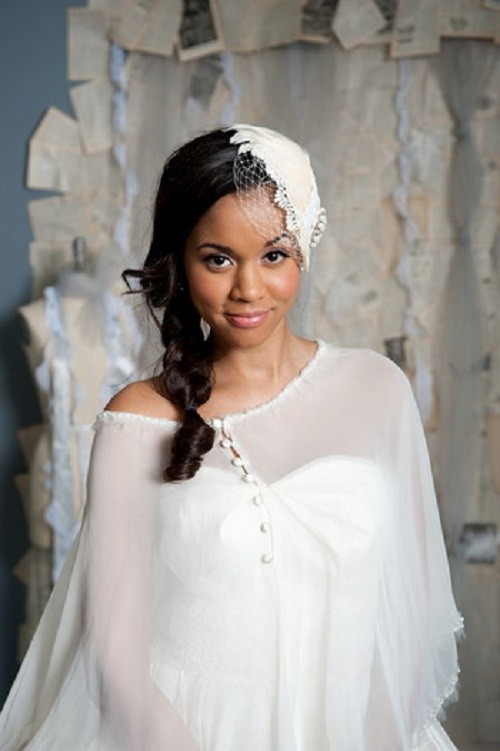 Source: 
Look great on your wedding when you add medium length straight weave that is pushed on one of the sides then around mid cheeks you pull a loose fish tail that touches the shoulders. Leave part of hair towards the end wavy but at shoulders length you fix black rubber band to hold hair. All your natural hair is pulled with cornrows and on top the weave is added. When making your hair you push it on one of the sides and round ears or cheeks you finish hair with fish tail. And on the opposite side you fix veil that partly touches the crown up to ear length while the ventilated side of the veil touches the forehead to complete your looks.
Determine your face Shape:
The Loose fish tail hairstyle in the pictorial above is worn on long face shape of black bride, if any bride out there has another face shape other than the one listed on top , look no further to try out your chances because am sure this hairstyle will look perfect on you.
Hair product to apply:
On scalp apply bees wax hair product then on top of hair use hairspray that will maintain your hair fully moisturized at the same time looking healthier so check with Bobos Remi Wig & Weave Detangle Spray
Which styling tools apply?
You pull your natural hair with cornrows using weaving threads and on top apply weaving needle through weaving thread to join weave on to cornrows. You apply small bristled comb to make your hair towards the right hand side around ears. Then there after coming towards the shoulders you pull loose fishtail and hold it firm few inches before you complete hair with rubber band. The rest of hair towards the tips is pulled with tight waves thus touching your bust. 5.
Touching fishtail along braids wedding black women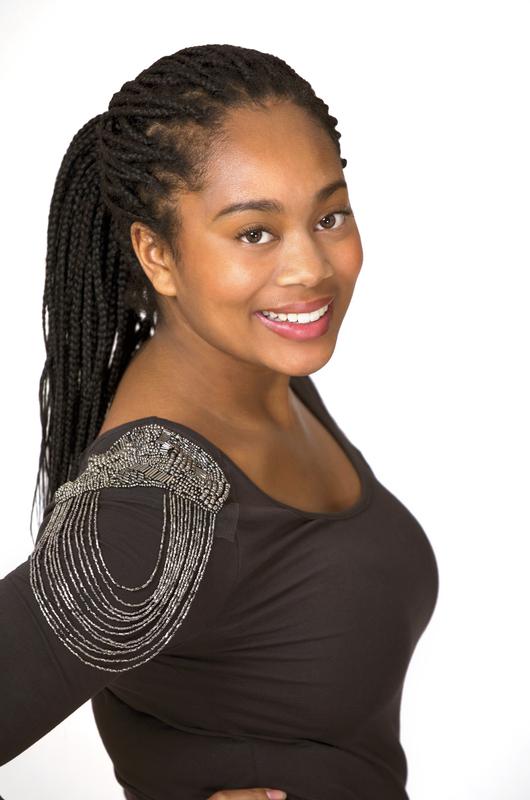 Source: 
Feel free on your wedding day to plait long braids, which is all collected and held together at the back of crown while resting at the back of neck to pull a touching fishtail. You make this hair two days before the slated day to give you relief from hurting scalp, you add hairspray to nourish scalp and ease the tension of scalp after tossing it round for more hours. It's good to apply braid materials that hold hair tight and look amazing on top. To make this hairstyle firm first you tie it round with either black ribbon or weaving threads on big volume that is turned round several rounds to tie hair in position. Shave your entire face to keep it clear, shade your lips colorful to complete your looks.
Determine your face Shape:
The fish tail along braids hairstyle is pulled on black woman with heart face shape, and to speak out the naked truth this exact hairstyle looks great on all face shapes of black women around the globe.
Hair product to apply:
Apply Dr. Miracle's Braid Relief 4 oz: to keep hair with lasting sheen, it moisturizes both scalp and entire braids.
Which styling tools apply?
Use Kanekalon fibers to add with your natural hair to make braids. Just after shampooing your hair you apply hot comb to dry hair then hold hair together using weaving threads and alternatively add nice looking accessory to make your hair look elegant.