5 Interesting Wedding Hairstyles With Puff Black Women
If there's an item that concerns about women, that is given priority more than anything I must pronounce loud is hair. I have seen women look stunning with stylish hairstyles name it; it can be short haircut, medium length hair whether it's curly or wavy. Anyway when you start to list down hairstyles women wear regardless of age am telling you can talk till down. In today's topic we are going to talk about black women pulling hairstyles with puff on their wedding and for sure look spectaculars.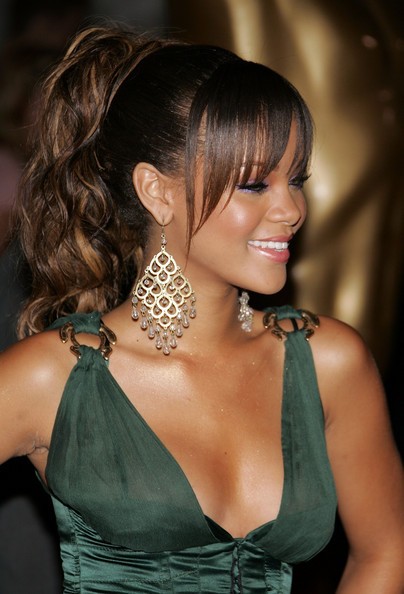 Mostly these hairstyles work on relaxed black hair or alternatively you can add hair extension of your natural hair leave some hairs out then the rest of hair is covered with extension. Rather they're some black women with soft textured hair that looks almost relaxed, you just organize it and hold it at the back of neck to pull puff hairstyle. I have looked around for five interesting wedding hairstyles with puff black women below for your scrutiny. 1.
Interesting wedding long puff on relaxed hair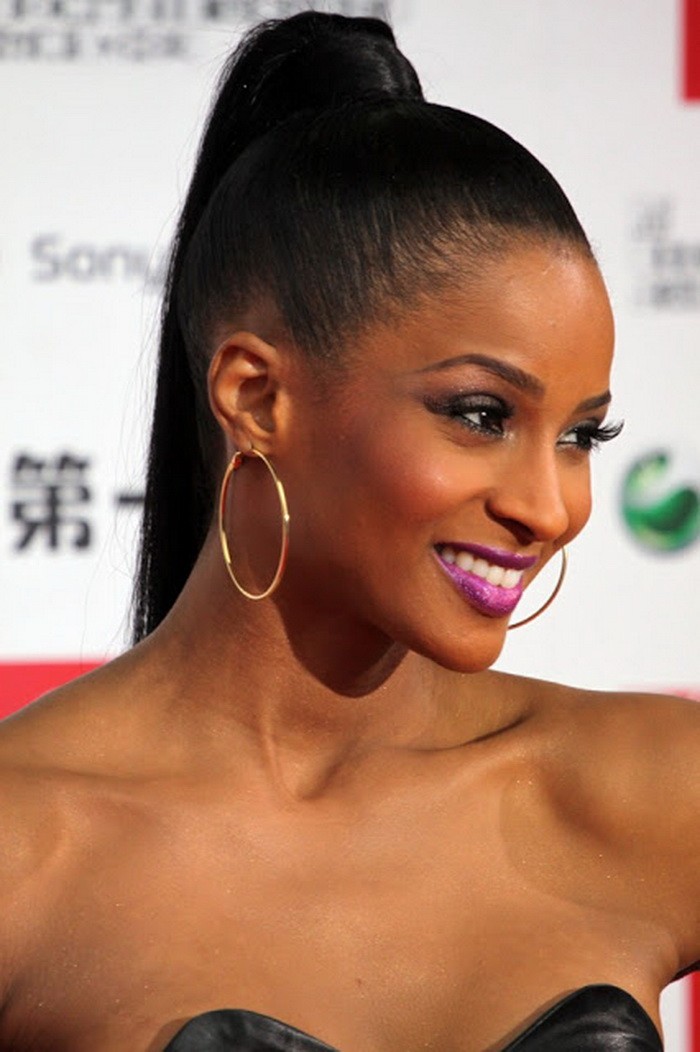 Source:
This hairstyle demonstrates one of the easiest hairstyle black brides can pull on wedding that makes you that attractive. You add long hair extension on top of your natural to achieve that crazy length of hair. Originally some women would add gel to hair to make it stiff and to really touch the scalp. but it require you to remove it quick to avoid breaking you hair and after you steam it to restore original length. Instead after washing your hair and drying it you can add pink lotion to make your hair smooth. Seconds after adding spray you apply small normal bristle comb to gather hair from all angles towards mid top of hair. You then make one cornrow out of this hair then sit under minimal time and heat for hair to dry. There after you join the hair extension on top that falls off shoulders to complete your looks.
Determine your face Shape:
The black babe in the background is pulling interesting wedding long puff on relaxed hair on round face shape. I must admit this hairstyle looks great to all women of any face shape since hair is put off your face leaving it clear and visible from all angles.
Hair product to apply:
Apply few volumes of TCB hair food to moisturize hair and to keep the texture of hair looking excellent and later on add pink lotion on top hair to make it become so smooth to touch the scalp. While on the extension add Organic R/S Root Stimulator Olive Oil Sheen Spray, 11.7 Ounce to lock in moisture and sheen.
Which styling tools apply?
To make this Interesting Wedding long puff on relaxed hair you first of all have to put in place long human hair weave that features natural black. You will need weaving needle and few amounts of braid threads to add weave on to your natural hair. To make hair manageable you need in place hair food and pink lotion to make hair smooth. Before you add weave on top of hair after adding pink lotion you need to sit under drier for the lotion to dry with in hair. 2.
Interesting wedding hairstyle with low puff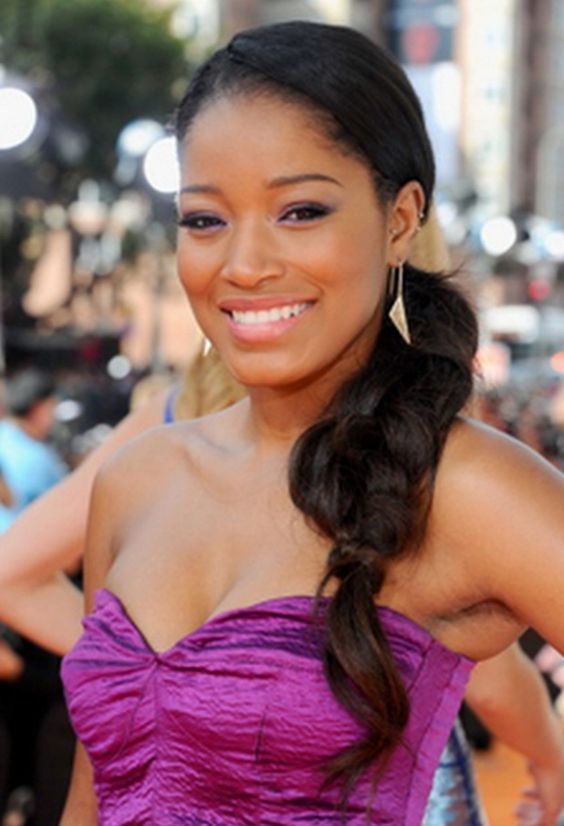 Source: 
You might be wondering out there how you can pull hairstyle on your wedding which doesn't require you to work so hard to match your day. Have you ever thought before that if your hair is relaxed much can work out more hairstyles that look good yet you don't need to invest in a lot? Imagine if you hard relaxed hair on medium or long length, there's a way you can add long hair extension either featuring more than one color or colored then you push low puff or fish tail. So you create cornrows on your natural hair going clock wise on your entire hair, while hair at the front is pulled with wide cornrow because part of your natural hair has to be visible. after adding the hair extension on top of your hair you make hair using big bristled comb as you push all hair from the right , hair in the middle section, and that on the left towards then extreme left corner behind ears. You put all hair together with rubber band then as you precede towards shoulders you; make big cornrows out of the extension up to round the bust. Tie the extension few inches before tips using the same extension by turning it round at the point you want to make knot then pass the tips through and pull tight to make a knot.
Determine your face Shape:
The lady in the above pictorial is pulling this hairstyle on long face shape, but the truth of the matter is that this hairstyle doesn't discriminate any face of any black woman round the globe.
Hair product to apply:
Assuming your natural hair at the bottom is added with usual hair food then on top of hair you add small volumes of hair product then last finish with hairspray to keep hair smooth, evenly moisturized and to keep it looking original.
Which styling tools apply?
Once your natural hair is relaxed, you have to have handy, braid threads to make cornrows on your natural hair and to help out then tying puff at bottom. Have with you long hair extension that features both black and brown color because this kind of blending teams with all black women face shapes and skin complexion. 3.
Interesting wedding straight hair on wavy puff black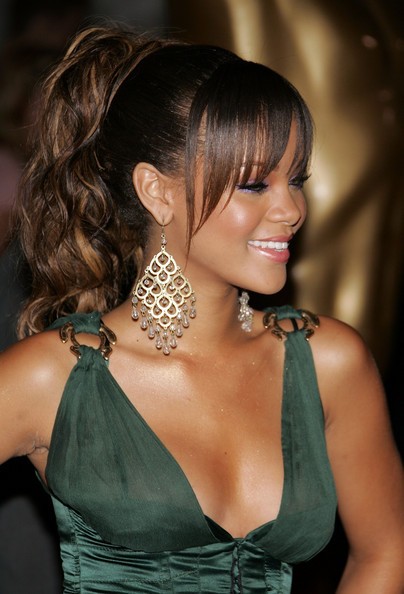 Source: 
Walk in the footsteps of Rihanna as celebrity when you too choose straight hair on wavy puff for your wedding. First and foremost her hair is relaxed so she parted some hair at the front towards the forehead to pull bangs; she trimmed short round eyes then round cheeks hair is long with sharp ends. So the rest of hair is pushed from front towards the upper back of neck. Its then put together as cornrow and joined as small bun as you turn the cornrow going round the point where hair joins. You then add medium length curly weave that blends both dark and light brown to fall off shoulders.
Determine your face Shape:
Rihanna is wearing this hairstyle on top on oval face shape, but it doesn't guarantee that only black women of this exact face shape is a must wear only but also other women of varying faces shapes too look awesome. To add more light on this article is that it looks great for other purposes so try it now.
Hair product to apply:
Use normal hair product on your hair like jojoba hair food, Tcb hair food or any other hair product that works on straight hair then add spray on curly weave to put off frizz, moisturize it to make it manageable.
Which styling tools apply?
Make your hair through the normal procedures as in after shampooing it, you steam it because this process gives your hair strength to overrun any hush condition that comes its way. Fix your hair on moderate size of rollers that accommodate the length of your hair to dry it. Once you remove them your hair will lock in waves which you later on put off to make hair straight ready to style. As stated before most hair is pushed towards the back and held together with braid threads or any tender string to support it. Then on top you add colored curly weave and add hairspray to make it manageable and last use big bristled comb to make it and you should make it with care for curls to bounce back in position. 4.
Interesting Wedding Natural curly puff black women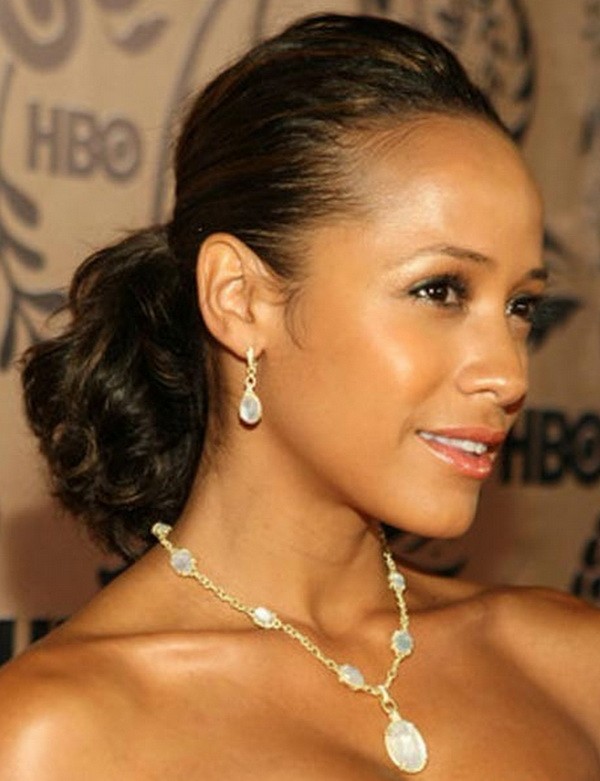 Source:
Check the bride up in the pictorial, she has medium length natural curly hair which she pushes straight on sides and on mid section of hair she pushes hair up and finally collects at the back of neck with a simple rubber band. Then the rest of hair is puffed thick and curly looking beautiful. So round ears few hairs are pushed forward towards cheeks to make you colorful. The bride in the pictorial kept her natural looks because she only shaped her eyebrows without adding color. What she did is to apply pink gross on her lips and she actually looked hot. She must have worn a strapless gown that matched with medium size bridal earring and necklace.
Determine your face Shape:
The bride in the background wears this hairstyle on long face shape; surely what i must say about this hairstyle is that this is one of the hairstyle that looks great on all women face shapes.
Hair product to apply:
Use The Roots Naturelle Curly Hair Products Bouncy Curls (16 Ounce) to make natural curly hair soft, make your hair frizz free and to keep hair lock in curls.
Which styling tools apply?
Once you shampoo your hair with natural extracted shampoo that is extracted to add nutrients to your hair, add conditioner to your hair that's meant for natural hair. Put hair under steam for purposes of making hair strong. Set hair with rollers as hair is set to dry when you're combing it apply normal side of tong comb to push hair straight to make hair on the sides round the middle section. Push puff with curls using the other side with tong bristles for a stunning look. 5.
Interesting wedding super long puff black women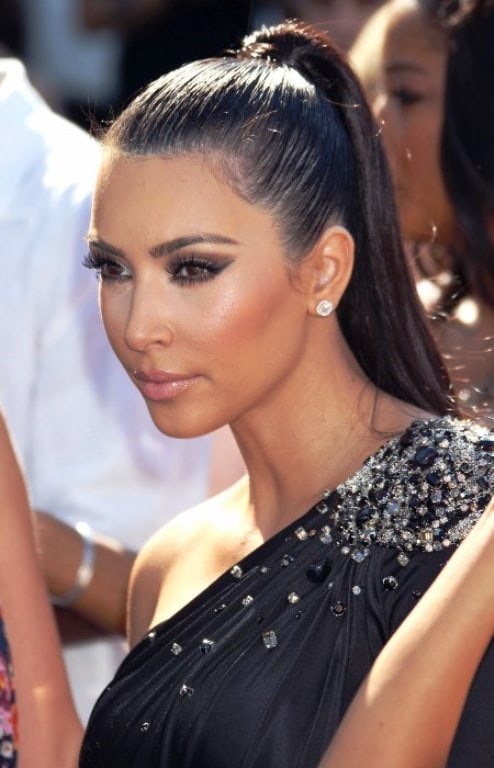 Source: 
The bride in the pictorial has soft long hair so what she does is to add long weave that looks almost her natural hair so she is able to pull super long puff. all her hair is pushed straight from all angles towards top of crown so you add long weave on top and part of weave is pushed between hairs to make cover the bottom of puff and to make it look cute. This hairstyle consumes less time to make while its impact on you looks is great. This hairstyle look perfect on gown that shows your bust and back so it looks colorful on you thus bringing out that feminine touch any bride always look for.
Determine your face Shape:
The black bride on top is pulling super long puff on round face shape, and I want to assure you all women out there that this one of the hairstyles among others that looks awesome to whole women regardless of skin tone or face shape.
Hair product to apply:
Add small volumes of hair product that you usually apply then finish by adding hairspray on top of hair and weave to keep it soft and looking healthy.
Which styling tools apply?
Once you have shampoo to wash off buildup and dirt, have in place either hand drier or one that you sit under to make her dry. Add hair product on few volumes on scalp and entire hair then make it towards the crown. Tie hair together at bottom using braid threads and handling hair with tender. Thread cornrow through that is made out of this hair and on top add long straight weave using weaving needle and threads. Use normal small bristled comb to complete hair.