5 Eye Catching Wedding Hairstyles On Loose Up Do Black Women
Women are like flowers this world is gifted with, however in a woman's life among others their opportunities that any mother would wish for her daughter. And this is nothing else but wedding because this day seems special in any woman's life, hair takes a lead. For today's topic we are looking at
black
brides wearing wedding hairstyles on loose up do's. It's either pulled on natural hair, relaxed hair or if hair is added on extensions whichever the case may be.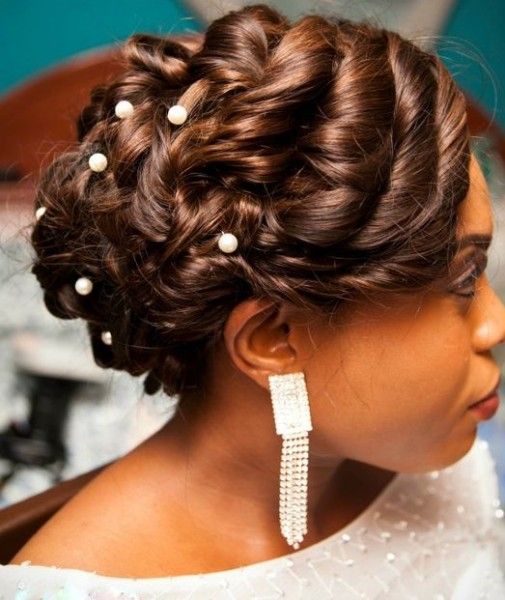 Here with me in this article have put together five eye catching hairstyles on loose up do black women wore to great heights for any aspiring bride to scrutinize the best among all. By the end of this article no matter where your interest lays just find you fall for one. 1.
Eye catching wedding hairstyle on side loose up do black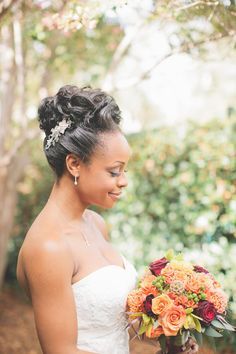 Source: 
The bride in the background is wearing an eye catching hair on side loose up do. Her hair is relaxed and on medium length, so she pulled part of it straight then added waves on one of the sides to create an interesting hairstyle. Her weight is light however all her bust is covered so she completed her looks by wearing shoulder less fitting gown. So when making her hair she pulled it straight on right side up to back of neck pulling it from ends towards the sides of crown. So hair at mid top and on the left is pulled with waves, however hair in the middle had more volume so what makes the left hand side look beautiful is that waves are pulled in steps increasing volume up to the last tip. The bride in the background spotted the best position to fix tiara because it looked great at right top side on straight hair touching part of waves to show up fashionably. Determine your face Shape: When I look closely at the bride in the pic above, she has a round face shape but to throw more light on her hairstyle is that irrespective of one's skin tone it looks great on all black brides. Further this hairstyle can met other important purposes in your life; let it be casual or formal.
Hair product to apply:
The hairstyle that is worn by the bride on top is relaxed so i recommend you to apply TCB Hair food or castor oil and equivalent other hair products for black hair. TCB hair food is formulated to distribute moisture evenly round your hair and scalp, make your hair manageable and lock in a healthier look you always yarn for.
Which styling tools apply?
Use Virgin Hair Fertilizer Shampoo to cleanse hair because it works perfect on black hair which is processed. It conditions hair which is damaged with chemicals, helps to remove dandruff on your scalp in case its dry. It will leave your hair smooth for easy styling. And when you're done with shampooing, apply dark and lovely conditioner to your hair as for not less than 30 minutes followed with a steam so that it penetrates through hair follicles to improve the strength of your hair. By so doing your hair will resist breaking and loosing original texture. Proceed by applying rollers on your hair on small volumes until your hair is done, then set moderate heat and sit under drier for your hair to dry. You will need big bristled comb to make your hair first after wash then later you will apply small bristled comb that has long tail to make your hair to the end. As you push hair on the right and back of neck up you will fix is with black hair pins then place your favorite tiara across the top section of this hair almost touching waves. If you want waves to lock in for long you can add holding hairspray. 2.
Eye catching wedding colored loose up do black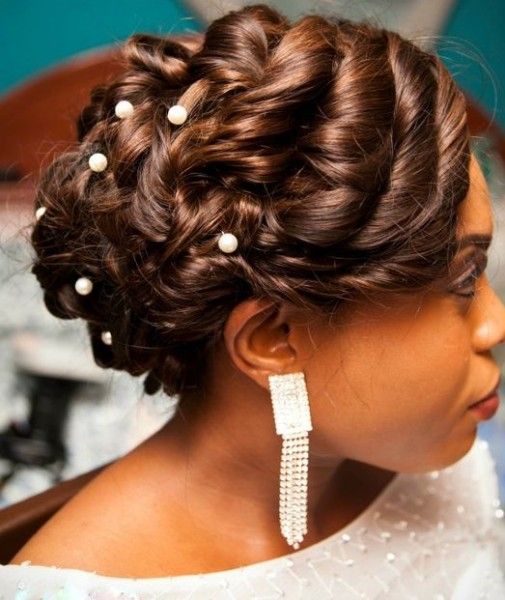 Source:
For change this black bride in the pictorial chose to add colored weave that is decorated at the back with white pins then front part of hair pulled with loose towards the sides as bangs. So your natural hair is drawn with medium size cornrows going round your entire hair at the bottom the on top you add colored hair extension. Originally this weave come curly so ,as you make it from the back of neck up to mid of your hair you kind of pull it from sides looking inward. As you pin this section of hair you end up pulling an up do. So hair from mid part coming towards the forehead is you pull it loose from the left towards the right side kind of pulling bangs.
Determine your face Shape:
the lady in the image above is wearing Wedding colored loose up do on round face shape, however this exact hairstyle looks good on square face shape, long face shape, oval face shape and other face shapes that aren't listed on top because nothing much you need to look this great but you need to watch the hairstylist you choose to make your hair.
Hair product to apply:
On scalp apply bees wax hair food because it will moisturize the scalp making you feel comfortable at the same time soothing the roots with tender to prevent scalp from hurting especial few days after plaiting hair then on top apply Organic R/S Root Stimulator Olive Oil Sheen Spray, 11.7 Ounce for even moisture distribution round weave and locking in lasting sheen and curls.
Which styling tools apply?
As you're making cornrows you apply black braid threads like sea gull brand, you pick small volumes of these pieces to make cornrows on small volumes of hair too. You will have in place weaving needle and threads to join the weave on top. Likewise have in place while hair pins to fix on top of hair then beneath the usual black long pins to make hair intact. To make the front part of hair as if your want the curls to shape exactly like in the background you apply a curling tool to shape bangs up to ears length. 3.
Eye catching wedding hair on loose up do long faces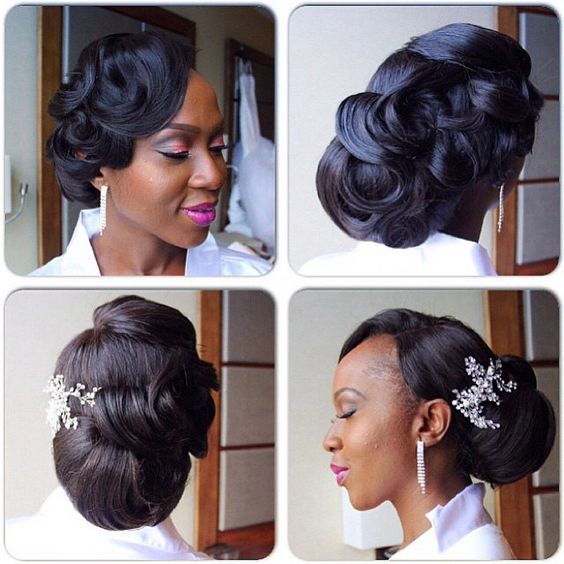 Source: 
The black bride on the pictorial entirely applied long straight weave which she managed to pull bangs on the right side, then hair on the left is pushed at back of ears and the rest of hair from mid top as you proceed towards the back of neck and held into puff. Since the weave is long hair at the back is held into wide puff and tips pulled with big waves then fixed with hair pins. However this hairstyle on top gives you more options of styles you can go about the same weave to look cute all ways possible.
Determine your face Shape:
The bride in the pictorial is wearing hair with loose up do on long face shape, and surely this hairstyle will look great on any face shape of any black women out there.
Hair product to apply:
As I take a close look at this pic I observe entirely a long human hair weave was applied therefore her natural hair is drawn with cornrows. So at bottom your natural hair is pulled with cornrows so you can apply anti itch hair food to both moisturize the scalp and to prevent itches. Most especially its sulfur based so use Sulfur 8 Fresh Medicated Anti-dandruff Hair & Scalp Conditioner 4 Oz; it's has pleasant fragrance , has a friendly scent and makes your hair strong. Then on top add African Essence Weave Spray 6 in 14oz, 12OZ to keep weave smooth, looking silky and tangle free.
Which styling tools apply?
Your natural hair is pulled with cornrows using braiding threads looking like your natural hair. Since your entire hair is pulled with cornrows preferably you have to make them going clockwise for easy fixing of the weave to achieve the best shape of a particular style you want to make. As you pick your favorite hair piece to use it has to be long and straight and so far their several weaves on market that but what matters most is the quality of hair piece you use. Human hair weave is durable, smooth to style and keeps looking original for period. Once you clean it off any buildup or dirt within three weeks and more it keeps looking original. The waves that feature round hair come along when you pick small volumes of hair and turn it round then fix it with hair pin to keep intact. Alternatively you can apply rollers on this human weave and set it in your favorite design. 4.
Eye catching wedding straight loose up do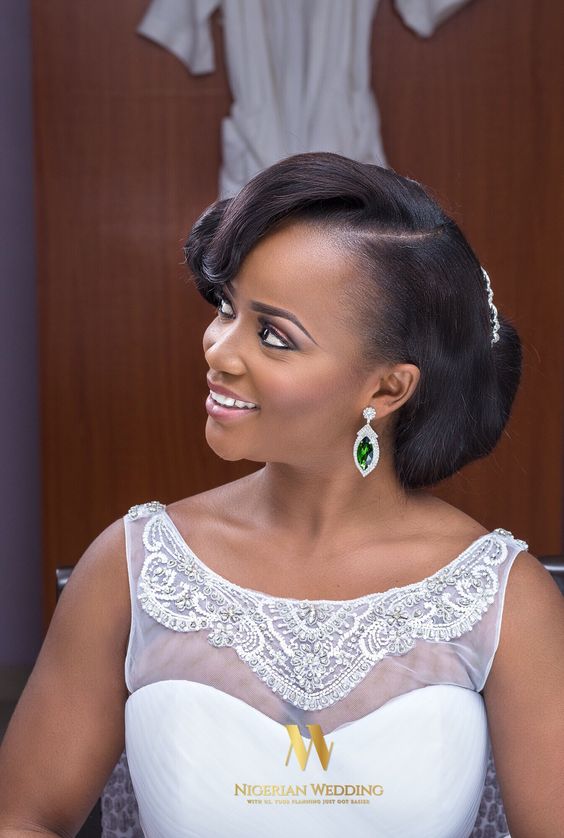 Source: 
Grab all attention from your audience and spouse when you keep your natural hair and draw straight loose up do on your wedding and achieve all compliments. The bride up front hair long relaxed hair, so she just parted hair from top left towards the right towards forehead to pull loose up do. So hair on the right is pushed towards the bottom behind ears. so the rest of hair going towards the back of neck is made in to a big bump making this hairstyle look wonderful. The secret behind this wonderful look is that some hairs is pushed forward and pulled on waves at tips then some hair on the left and at the back of neck is pulled with more volume and tips at extreme back pushed inward and secured with pins to look glamorous. So the tiara is fixed at mid back section of hair to make hair look exceptional.
Determine your face Shape:
The bride up front is wearing her hairstyle on long face shape; she is favored by her long jaws to look that outstanding. To be realistic i must say this hairstyle will blend any black face shape regardless of any face shape. It's not costly but takes a bride to be confident that however easy the kind of hair you may pull you will always look outstanding.
Hair product to apply:
Use Argan Oil Hair Mask, 8 oz because it works together with natural oils embedded within your hair to add life to your hair, keep it with a healthier look and last but not least to facilitate hair growth.
Which styling tools apply?
Your hair is shampooed clean with natural extracted shampoos from best natural extracts like coconut oil, avocado and other natural extracts on market. The ingredients that are embedded within add life to your hair to resist any hush condition that would break down your hair. For your hair to get more strength and original texture maintained it needs to have a steam with conditioner added. By the way steaming also do help those persons with acne because it opens pores that store fats round your face that cause acne. So after the washing you will need appropriate size of rollers to add to your hair according to its length for it to dry on short time. Then your hair will be set to dry and after apply small bristled comb gently to avoid straining it. Apply hair product after taking of rollers then finally make your hair as desired. 5.
Eye catching wedding layered hairstyle on loose up do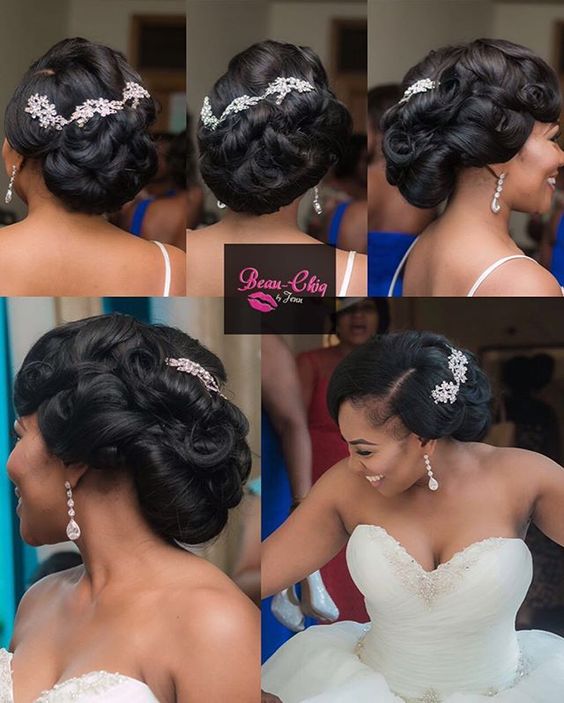 Source: 
The smiley black bride in the background fell for layered hair on loose up do; I must say she made a perfect choice. This is not her natural hair but part of her natural hair left out especially at the front to cover layered human piece which is pulled wavy on the side then front part of hair pulled straight for the hairstyle to look colorful. First the bride in the background has relaxed hair so it's shampooed to keep it tidy. This hairstyle takes you for ample time since part of her natural hair is left out its necessary to have a steam. By so doing it adds life and strength to your hair as a result you minimize chances of hair to break off or look dull. Once you're through with this step you take the process if drying it. Thereafter you part some hairs at the front as a section of your natural hair that is to cover the human hair piece. After this section you draw medium size cornrows up to back of neck. So the next step that follows here is to pick your favorite color of human piece which is wavy to avoid using a curling tool. So waves will lock in automatically after combing through thus styling is made easy.
Determine your face Shape:
This bride looked wonderful with layered hairstyle on loose up do on an oval face shape. Indeed I must say this hairstyle looks great on all face shapes of any black woman out there. The kind of gown this bride pulled hugged her body. She added medium length bridal earrings that matched with the color of gown and tiara and in my own way of understanding she scored highly. Any one of you out there can make it so try out your chances if you're an aspiring bride.
Hair product to apply:
On scalp apply Argan Oil Hair Mask that helps to clean the scalp, nourish it and facilitates new growth. On top of hair apply few quantities of the same product then complete by add hair spray that will lock in waves, keep hair looking original and it can either be Organic R/S Root Stimulator Olive Oil Sheen Spray, 11.7 Ounce or any equivalent brand that work on weave and extensions.
Which styling tools apply?
Hair is divided into two sections, one section at the front that involves leaving out your natural hair out without plaiting it for purposes of resting it on top of the human wavy piece. You start joining the piece on cornrows starting at the back of neck coming forward. When you're done with this process you make your natural hair towards the sides creating in between mark able line using the tail of a comb. Comb it straight few inches towards ears that's on the right hand side then towards the left to kind of pull bangs. Then push some hairs backward using small bristled comb. From this point you start pulling waves on the sides as shown in the back ground, fix with in long black pins for easy styling. When styling is done place floral tiara between straight and wavy hair. Complete hair with hairspray for strong hold and locking hair with sheen.